Knicks center Joakim Noah purposefully skipped dinner with West Point Army cadets and a speech from a retired colonel because of his stance against war.
The Knicks held their third consecutive training camp at the United States Military Academy at West Point, for which Noah said that he has "mixed feelings" about being there.
"I have a lot of respect for the kids here fighting, but it's hard for me to understand why we go to war and why kids have to kill kids all around the world," Noah told reporters. "I have mixed feelings about being here. I'm very proud of this country. I love America."
"I'm not anti-troops. It's just not comfortable for me to see kids going to war and coming back having seen what they've seen and done what they've done. It's sad for me," Noah said.
Knicks coach, Jeff Hornacek, gave Noah permission to skip the dinner and the camp because he was "not comfortable."
"It's his right,'' Hornacek said. "We want him part of the team group. He just didn't feel comfortable. We're not going to pressure him into doing that. We had a speaker who I thought was fantastic. I told him maybe I can get him a copy of the speech, so he can hear some of it. It's his right. That's fine.
Noah said that his decision was not a form of protest at all such as what Colin Kaepernick did by not standing for the national anthem. He did say that he did support Kaepernick's decision.
"I'm not a patriotic person," Noah said.
The U.S. Military Academy said that they were "disappointed" with Noah's "inappropriate decision.
"The U.S. Military Academy at West Point develops leaders of character for the defense of our nation," West Point spokesman, Lt. Col. Christopher Kasker said in a statement. "We are disappointed and feel Mr. Noah's choice of West Point to make a statement is inappropriate because of the great sacrifice that has originated from this institution over our nation's history."
Following the statement, the Knicks PR team tweeted photos of Noah spending time talking with cadets.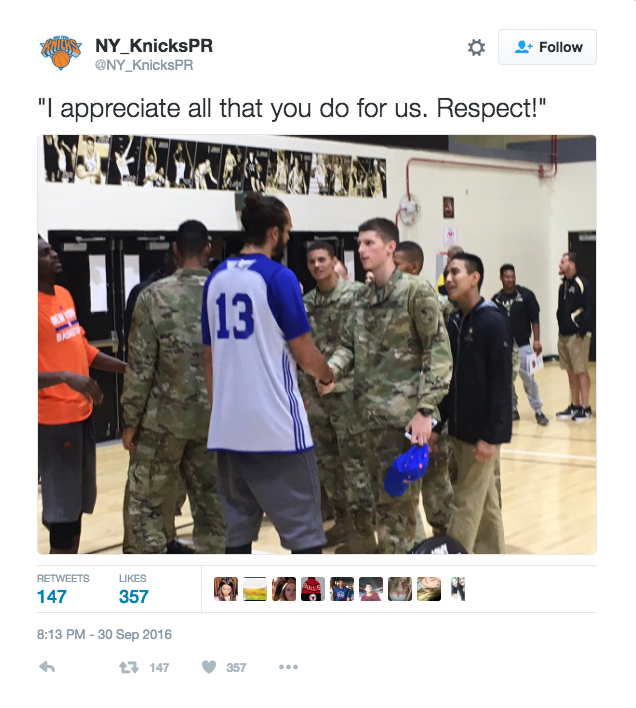 [revad2]