Reality TV star Kim Kardashian West was held at gunpoint and robbed of millions of dollars worth of jewelry by men dressed as police officers on Sunday.
Kardashian was staying at a private apartment inside a luxury mansion in France during the incident.
The French Interior Ministry said five men threatened the concierge with a weapon and forced him to open the Kardashian apartment.
Two masked men entered the apartment and held a gun to Kim Kardashians head.
The Interior Ministry said that she was locked in a bathroom. Sources with knowledge of Kardashian security detail told NBC News that she was tied up by the robbers.
Among the items stolen were a ring that had an estimated value of $4.5 million and a jewelry box with jewelry inside of it estimated at $5.6 million.
Kim Kardashian West, Kourtney Kardashian, Kendall Jenner and Kris Jenner were in France at the time for Paris Fashion Week. On Sunday night, she attended the Givenchy show. She then attended a private dinner hosted by the fashion designer Azzedine Alaïa and Surface magazine.
It is unclear if Kardashian Wests' two children were with her at the time of the robbery.
On Monday morning, police were gathered outside the Hotel de Pourtales, which offers luxurious and discreet apartment rentals to famous and wealthy people.
"I condemn the attack Kim Kardashian suffered last night in her hotel,"The mayor of Paris, Anne Hidalgo said in a statement. "She has my support and will always be welcome here in Paris. I have full confidence that the police force, as part of their investigation, will quickly identify and apprehend the perpetrators of these acts."
Kardashian Wests' husband abruptly walked off stage at the Meadows Festival in New York at CitiField  on Sunday nigh, telling the audience that there was a "family emergency." He was singing the song "Heartless" when he was notified of the situation and walked off stage.
The crowd left unhappy and were shocked that he abruptly called off the show.
Kanye just cut his #themeadowsnyc set short, citing a "family emergency." pic.twitter.com/Yg6VQC5ieQ

— Genius (@Genius) October 3, 2016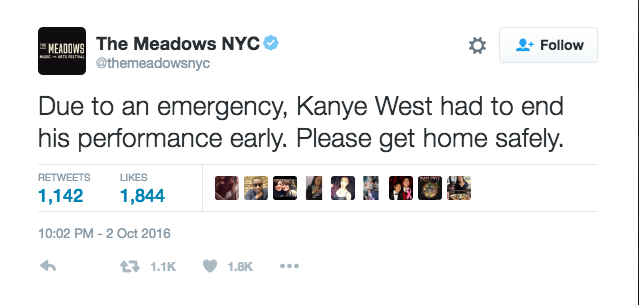 [revad2]