Tensions are high as ever between Israel and the radical Islamist terror group, Hamas, as the two have been launching rockets back and forth after Hamas launched an attack on one of Israel's cities. According to the Israeli Military, Hamas fired a rocket from the Gaza Strip into the nearby Israeli city of Sderot, requiring Israel to strike back. The rocket landed in the middle of the street injuring three people, but no fatalities were reported from either side.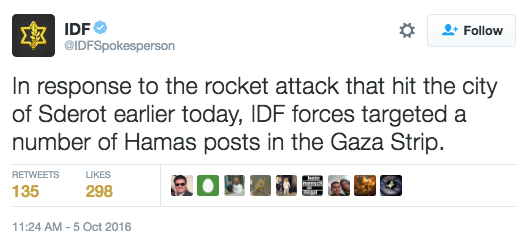 The terror group situated on the Gaza Strip managed to get a rocket into Sderot, a city that hasn't been targeted by the group since 2014. The affected area was closed off for bomb disposal teams to clean it up, according to a police spokesperson. Israel used tank fire to strike back, hitting a Hamas post in the Gaza Strip. Hamas security forces said the strike hit a post that is run by its military wing, the Qassam Brigades. Israel followed with three more airstrikes targeting other Hamas posts in the region. Israel would not specify which exact locations were targeted saying in a statement that they hit "a number of terror installations belonging to the Hamas terror group."
Hamas has warned Israel that there will be "military escalation" because of the increase of Israeli airstrikes. As of Thursday morning, Hamas fired a second rocket towards Israel.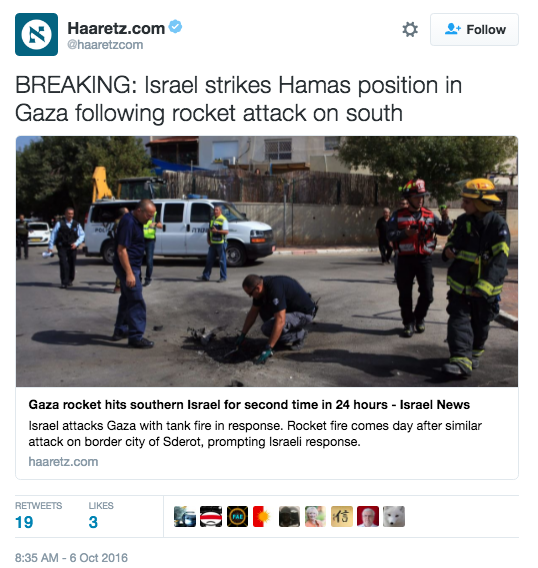 Israel, however, is set on defending their nation against the Islamic jihadist attacks from the neighboring region. Military spokesman Peter Lerner said the attack on Sderot was a "direct result of Hamas's terror agenda in the Gaza Strip that encourages deliberate attacks against Israeli civilians."
[revad2]