The Democratic National Committee has officially apologized after it was reported that Hillary Clinton's tour bus was dumping human waste on the street in Georgia. The bus was seen dumping the sewage from the on-board bathroom into a storm drain on the side of a road near Atlanta.
The discovery was made when a local businessman, Mike Robins, saw a bus with the slogan "FORWARD TOGETHER" written across it and brown liquid pouring out of the bottom. Robins took out his phone and took pictures before alerting police.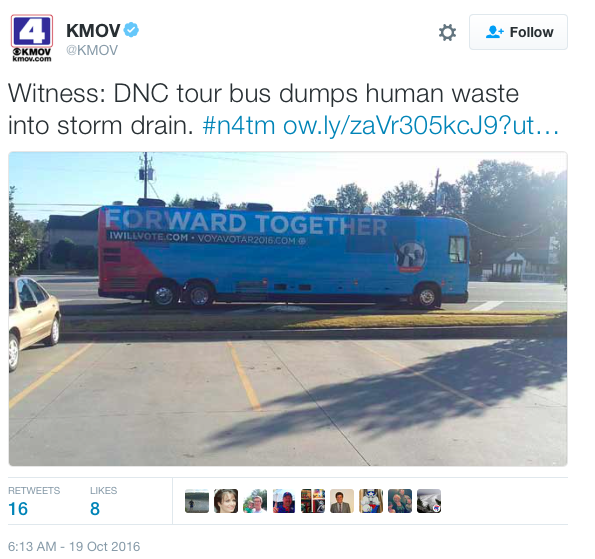 "I don't care who you are. I don't care if you're Hillary Clinton. I don't care if you're Donald Trump. I don't care who you are, you don't throw human waste down a storm drain," Robins told local CBS46. "Waste water just dumping all out in the street, poured out in the storm drain, and at this time I've got my cell phone out and I'm taking pictures cause I don't care who you are. That's just wrong."
The DNC told CBS46 "This was an honest mistake and we apologize to the Lawrenceville community for any harm we may have caused. We were unaware of any possible violations and have already taken corrective action with the charter bus company to prevent this from happening again. Furthermore, the DNC will work with the Georgia Department of Natural Resources, as well as local and state officials to determine the best course of corrective action."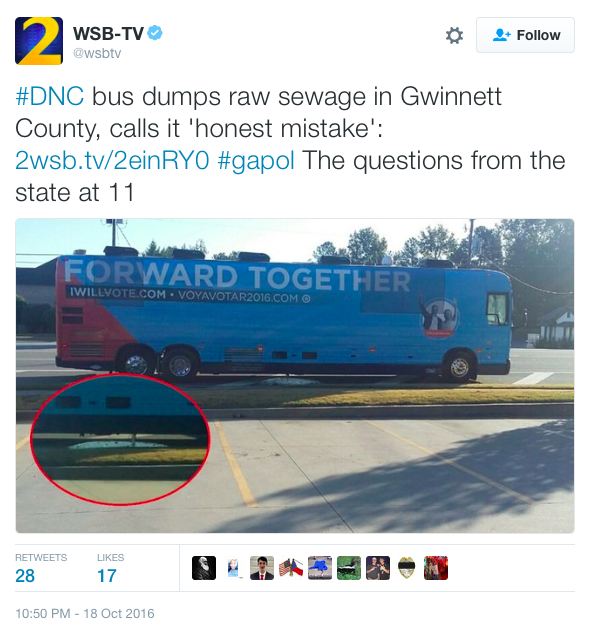 The incident is being investigated by Gwinnett County's storm water department along with the State Environment Protection Division.
[revad2]