On Sunday, the GOP Headquarters in Hillsborough, North Carolina was reportedly destroyed after a molotov cocktail was thrown through their window and graffiti was sprayed on the side of their building. The Republican party headquarters was attacked just three weeks before the Presidential election. Hillsborough police stated they are working with the federal Bureau of Alcohol, Tobacco, Firearms and Explosives in the investigation.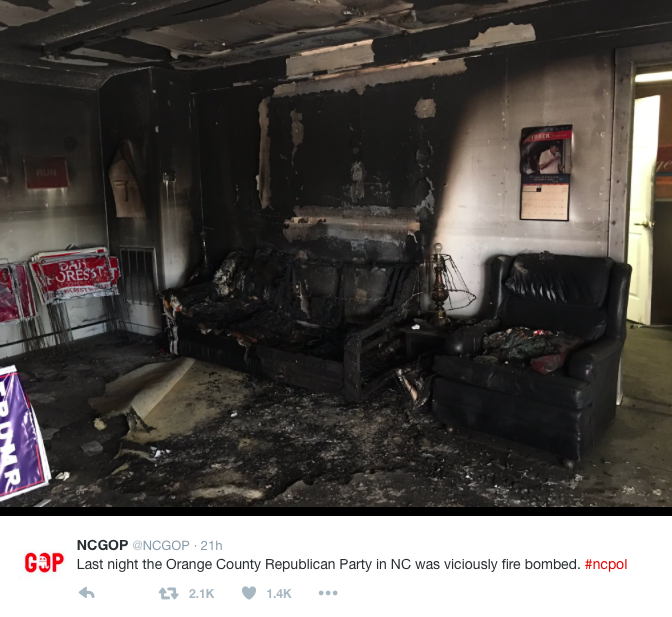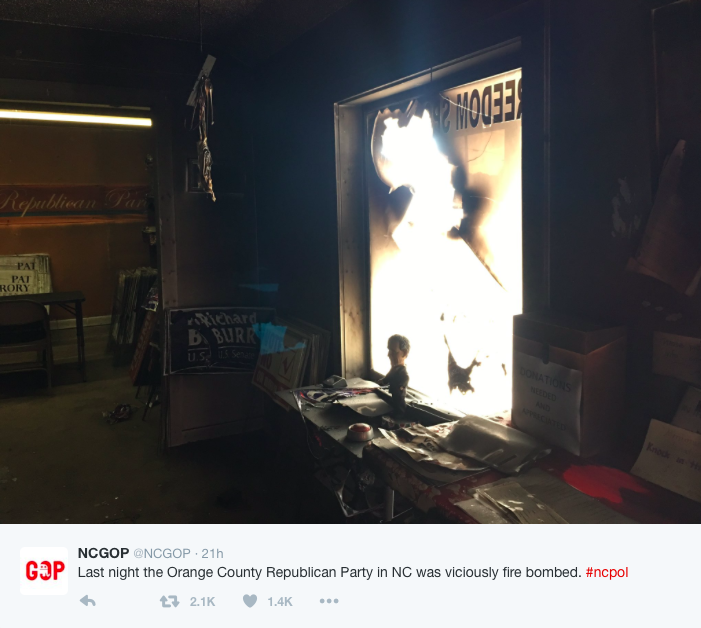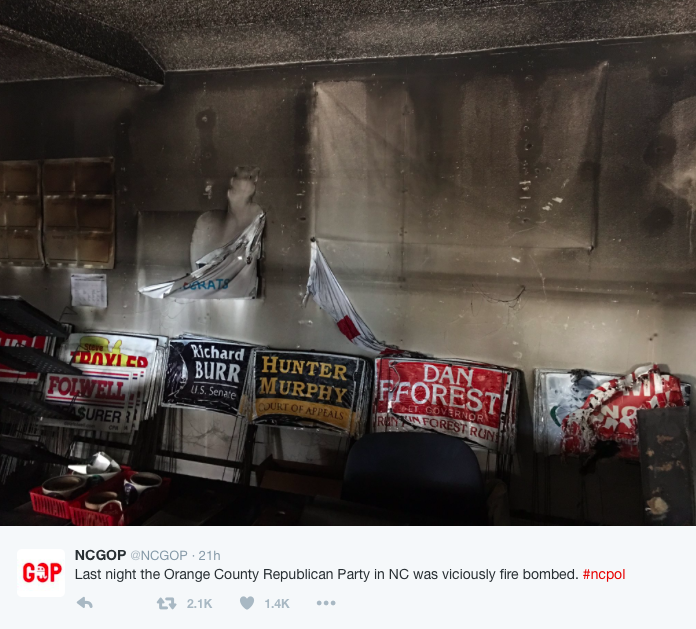 Along the side of the building in the shopping mall where the headquarters is located, the message "Nazi Republicans leave town or else" was spray painted on the outside of a nearby business.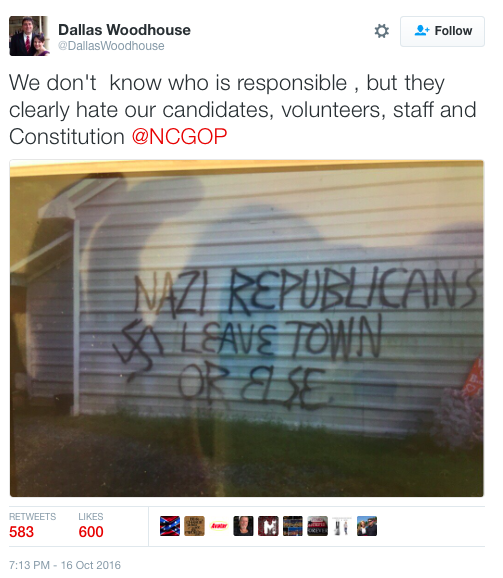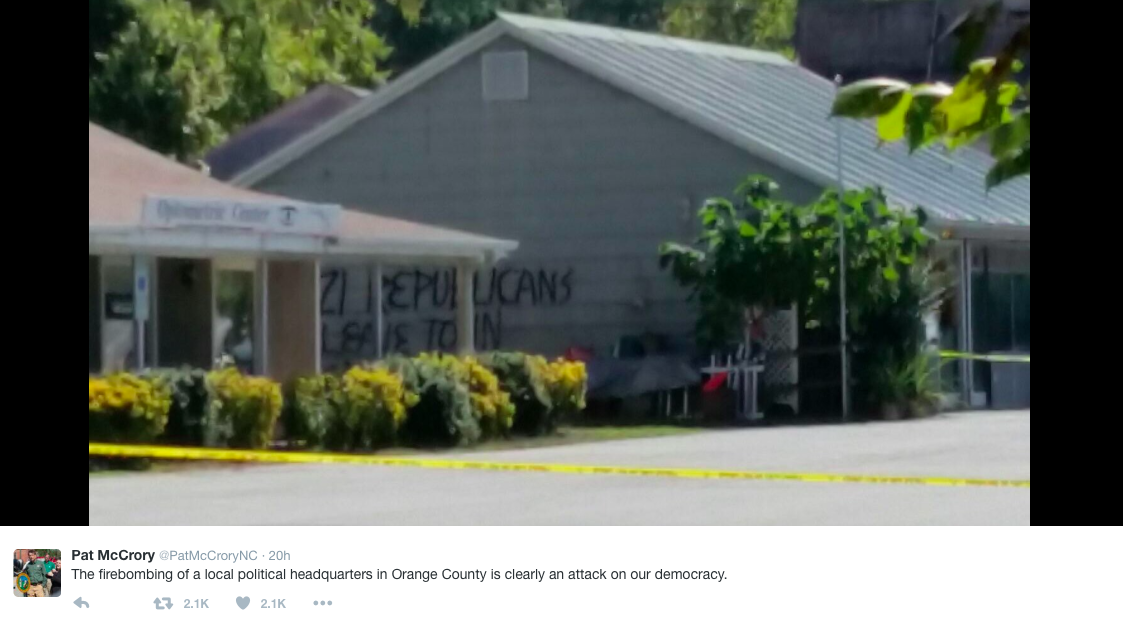 "The firebombing of a local political headquarters in Orange County is clearly an attack on our democracy," North Carolina Gov. Pat McCrory said in a statement. "Violence has no place in our society – but especially in our elections. … I will use every resource as governor to assist local authorities in this investigation."
Hillsborough mayor Tom Stevens released a statement yesterday saying,"this highly disturbing act goes far beyond vandalizing property; it willfully threatens our community's safety via fire, and its hateful message undermines decency, respect and integrity in civic participation."
North Carolina Democratic Party Chair Patsy Keever said "the North Carolina Democratic Party strongly condemns this attack" and that "violence has no place in our political system. … Our deepest sympathies are with everyone at the North Carolina Republican Party."
"Our law enforcement officials are responding quickly and thoroughly to investigate this reprehensible act and prosecute the perpetrators," the statement continued.
North Carolina GOP leader Chris Cioffi told the Charlotte Observer, "This is a horrific, horrific act of political terrorism."
Both Presidential Candidates weighed in on the matter via Twitter yesterday: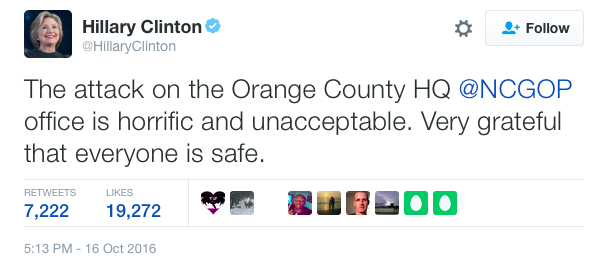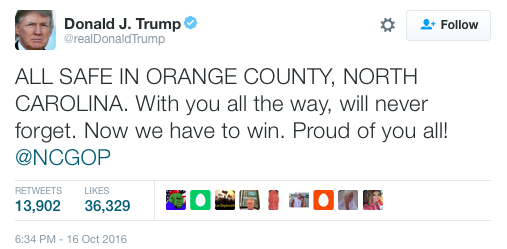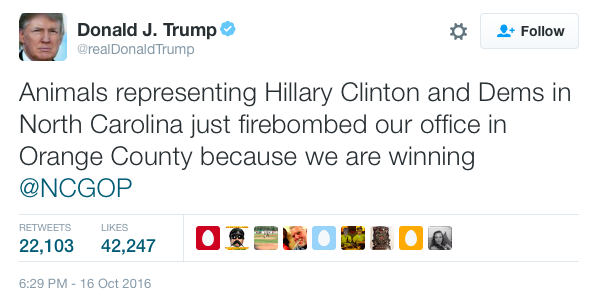 Since the attacks, democrats have raised over $13,000 to help their political counterparts.
[revad2]