The FBI secretly arrested a National Security Agency contractor as part of an investigation into whether he stole and disclosed highly classified computer code developed to hack into the networks of foreign governments, the U.S. Department of Justice announced Wednesday.
The contractor worked for Booz Allen Hamilton, the same contracting firm as Edward Snowden. The Department of Justice said in a statement that they identified the person to be Harold Thomas Martin III, a 51-year-old Maryland resident with a top secret clearance. According to a complaint filed by the U.S. Attorney, he was arrested on August 27. Martin had his initial court appearance on Aug. 29 and is still detained, a DOJ press release stated.
He was charged with theft of government property and and unauthorized removal and retention of classified materials by a government employee or contractor.
When the FBI raided his house, executing a search warrant, they seized six classified documents dating back to 2014. Each document was classified as Top Secret. He had digital information stored on electronic devices as well. Investigators reportedly also found U.S. government property totaling about $1,000.
Originally, he denied having taken the files and documents, but then later said he knew what he was doing was wrong and he was not authorized to take the documents.
Martin served as a Surface Warfare Officer on the USS Seattle during the early 1990s and deployed twice during his service in the Navy.
There is no evidence that Hal Martin intended to betray his country," Martin's lawyer, Jim Wyda, told The Wall Street Journal. "What we do know is that Hal Martin loves his family and his country. He served the nation honorably in the United States Navy and he has devoted his entire career to protecting America.''
Martin is suspected of stealing computer "source code" that is used to "break into computer systems of adversaries like Russia, China, Iran and North Korea," the New York Times reported.
Officials said that it is unclear if he had any motive for taking the classified information, but one official told the New York Times that Martin does not appear to be politically motivated.
He is "not like a Snowden or someone who believes that what we were doing was illegal and wanted to publicize that," the official said.
This marks the second time a Booz Allen Hamilton contractor has infiltrated the NSA's classified systems. The first was Edward Snowden, who back in 2013, stole documents and leaked them before fleeing to Russia, where he has since been granted asylum. He leaked information on both foreign and domestic spying programs.
Snowden tweeted Wednesday questioning whether Martin was connected to the hacking group known as the "Shadow Brokers" that leaked classified N.S.A. code and put them up for bid.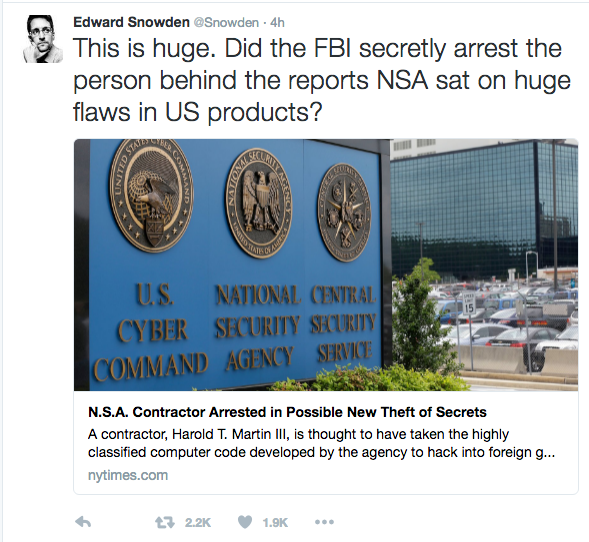 [revad2]