Over a dozen San Antonio Police Department officers that chose to wear the iconic "Make America Great Again" baseball caps, that have become icons of Republican presidential candidate Donald Trump's campaign, have been punished for their choice of attire.
Shortly after a video of Trump greeting the officers and thanking them for their service was posted on Trump's official twitter city officials made an official statement informing the officers and the public that these first responders would be punished for "participating in political activity while acting in their capacity as city employees."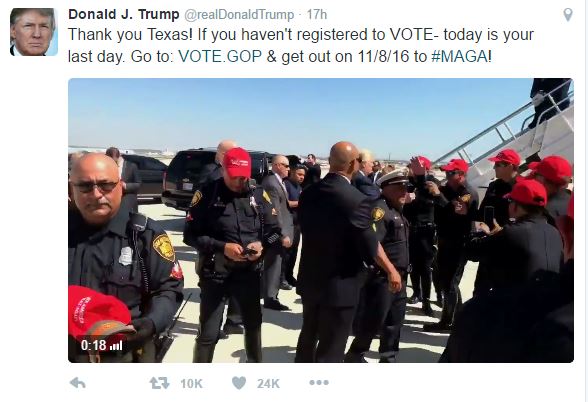 According to San Antonio city officials city employees are prohibited from endorsing a political candidate while on duty. Mayor Ivy Taylor is one of many critics that claim the video gives the impression that the officers were supporting Trump and claims it could cause a rift between the officers and citizens who do not support Trump.
Police Chief William McManus commented on the situation by stating:
"The officers wearing the campaign hats while in uniform violated SAPD policy and will be disciplined appropriately, SAPD officers are charged with protecting the entire community. The officers displayed poor judgment. I expect them to know better than to give the appearance of endorsing a candidate while on duty and in uniform, regardless of the political campaign or the candidate."
President of the San Antonio Police Officers Association, Michael Helle, claims that the officers involved are all aware of the rules and were simply "caught up in the moment" after accompanying Trump to the airport as part of his security motorcade.
Video of the incident can be seen below:
The 14 officers involved are expected to receive written reprimands or counseling for the incident.
[revad2]