On Wednesday Defense Secretary Ash Carter warned North Korea that any attack or use of nuclear weapons on American allies would result in an "overwhelming" response from the United States. Secretary Carter made the comments during a meeting with top U.S. and South Korean diplomats where they discussed the growing nuclear and missile threats from the North.
"The U.S. commitment to the defense of South Korea is unwavering. This includes our commitment to provide extended deterrence, guaranteed by the full spectrum of U.S. defense capabilities," Carter said.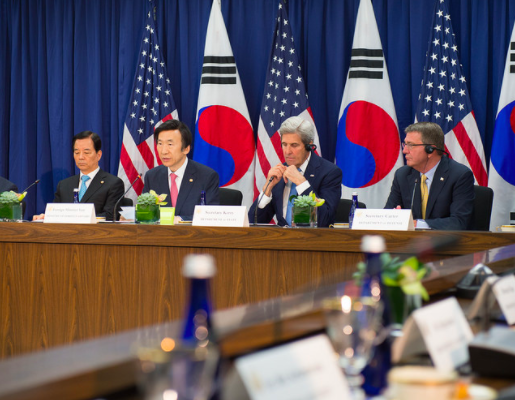 "Make no mistake, any attack on America or our allies will not only be defeated, but any use of nuclear weapons will met with an overwhelming and effective response," he continued.
The talks come weeks and days after North Korea showed acts of aggression in the region. In September, North Korea launched one of its most powerful nuclear test explosion yet and just this week, the North tried firing an intermediate-range missile at the USS Reagan but failed. This year alone North Korea has performed two nuclear tests and 23 missile tests.
Secretary Carter was joined by Secretary of State, John Kerry, and their South Korean counterparts Foreign Minister Yun Byung-se and Defense Minister Han Min-koo. Foreign minister Yun expressed fears that the threat of North Korea is "more grave than ever" and that their neighbors to the north are "nearing the final stage of nuclear weaponization."
Secretary Kerry said that the United States will deploy a Terminal High Altitude Area Defense (THAAD) "as soon as possible." THAAD is a missile defense system designed to protect the South Koreans and the American forces stationed there.
Kerry, while referring to North Korea by it's official name the "Democratic People's Republic of Korea," said that the U.S. and its allies need to work together and aim for a peaceful solution to end the nuclear threat from North Korea.
"We need to ensure, working together, that the DPRK pays a price for its dangerous actions, even– and I want to emphasize this — (as) we work for the peaceful denuclearization of the Korean Peninsula," Kerry said.
On Wednesday, North Korea's state-run newspaper, Rodong Sinmun, said:
"We have warned that South Korea will be engulfed in a sea of fire and the U.S. military units in the Pacific region and the mainland will be in chaos if the U.S. wages nuclear strikes against us. Our warning is not an empty word."
[revad2]