The Pentagon released a statement late Wednesday night confirming they had retaliated against the Iranian-backed group believed to be behind the attacks on the USS Mason. The statement said that around 4:00 am local time, the military struck three Houthi-controlled sites on Yemen's Red Sea Coast.  The strikes were authorized by President Obama following the recommendation of Secretary of Defense Ash Carter and Chairman of the Joint Chiefs General Joseph Dunford. The initial assessment of the strikes given by Pentagon spokesman Peter Cook was that the three targeted radar sites have successfully been destroyed.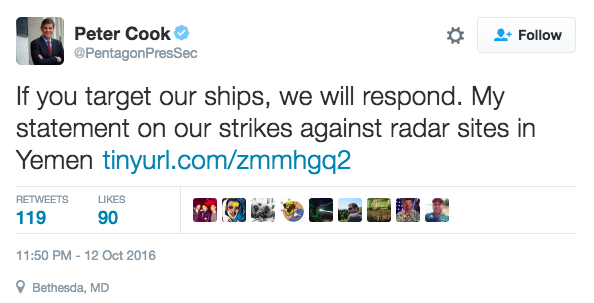 The statement said that the strikes "targeted radar sites involved in the recent missile launches threatening USS Mason and other vessels operating in international waters in the Red Sea and the Bab al-Mandeb."
It also stated that the strikes were "limited" considered "self-defense strikes" which "were conducted to protect our personnel, our ships, and our freedom of navigation in this important maritime passageway."
"The United States will respond to any further threat to our ships and commercial traffic, as appropriate, and will continue to maintain our freedom of navigation in the Red Sea, the Bab al-Mandeb, and elsewhere around the world," the statement concluded.
American officials have not provided information on casualties as a result of the U.S. missiles. The AP reports that an anonymous military official said that the 3 radar sites were in remote areas where there was little risk to civilians. The unnamed official also informed the AP that the Tomahawk cruise missiles were launched by the USS Nitze destroyer.
The areas in Yemen that were targeted were near Ras Isa, north of Mukha and near Khoka.
The U.S. Navy missile strike was only conducted to "escalate aggression and cover up crimes committed against the Yemeni people", the source said.
The U.S. has been providing logistical support to the Saudi-led coalition against the Houthis.
The American strikes were in retaliation for missiles fired from the Houthi-controlled territory in Yemen at the Navy destroyer the USS Mason. The two missiles aimed at the ship Wednesday did not successfully hit. Wednesday's attack was the second time this week missiles were fired from the region at the USS Mason.
The Houthi's previously denied involvement in the missile strike attempt against the USS Mason. The Houthis also denied involvement in the attempted missile strike on Thursday saying that they did not come from areas under their control, a Houthi-controlled news agency reported, citing a military source.
[revad2]