Congress is furious after roughly 10,000 California National Guard troops have been ordered by the Pentagon to pay back recruitment bonuses. An investigation discovered that the California National Guard abused the money and paid out the bonus money to many that were ineligible to receive the bonuses in the first place.
After intense media and Congressional fury, Pentagon officials are now trying to waive the troops debt and Congress is threatening to pass a law to resolve the issue.
Regardless if the soldiers were able to receive the bonuses or not, it is the Pentagon and California National Guard that is responsible for determining who is responsible and doling out the bonuses. In most cases soldiers do not know if they are eligible or not because individual soldiers are not responsible for determining the requirements of bonus and enlistment bonus distribution.
A Los Angeles Times report revealed that California National Guard officials demanded that thousands of National Guardsmen will have to return bonuses of up to $15,000 that were offered to help recruit part-time troops during the Iraq War in the 2000's.
In September, 42 auditors found that after reviewing the bonuses and payments, 9,700 members were awarded the money when they weren't supposed to receive it.
Chief of federal policy for the California Guard, Andreas Mueller, emailed California's members of Congress on Monday reminding them that incorrect reenlistment bonuses were awarded to thousands of soldiers and brought to the attention of federal lawmakers, the LA Times reported.
Mueller added that California was the only state that audited the payments, meaning that other states could be impacted by these payback requests.
A federal investigation multiple years ago found fraud and mismanagement by California Guard officials led to awarding $20 million in bonuses and student loan payments to soldiers that were not qualified for them or were not meant to receive the payment.
The bonuses were given to the Guardsmen because of a struggling recruiting goals to meet the needs for more frequent combat deployments.
Even though, state officials have pleaded guilty to making fraudulent claims, the service members who enlisted are being required to pay back the bonuses, causing financial hardship on many of them because they already spent the money that they were improperly awarded.
If they don't pay the money back, they will face interest charges or tax liens.
Members of Congress are seeking an official inquiry to waive the debts.
"I am outraged that our service members and veterans are being asked to repay bonuses and benefits promised to them when they answered the call to serve our nation," Representative Julia Brownley, a Democrat representing the 26th District, said in a statement on Monday. "I intend to introduce legislation as soon as Congress returns to waive repayment, and will work with my colleagues to ensure a full accounting of how this mismanagement occurred."
Duncan Hunter, a Republican who represents the 50th District, wrote a letter to Defense Secretary Ashton Carter to express his displeasure with the payback demands.
"I find it difficult to believe that either you or your leadership team was aware that such a boneheaded decision was made to demand repayment — and I ask that you utilize your authority to influence a solution, including a possible legislative fix if determined necessary, that's in the best interest of the individuals and families impacted," Hunter said.
Several other members of Congress have written to Carter appealing to waive the debts.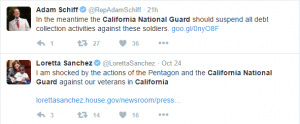 The Pentagon said that troops who are facing the payback demands should file an appeal with the Defense Department's Office of Hearing and Appeals.
"This has the attention of our leadership, and we are looking at this to see what we can do to assist," Navy Capt. Jeff Davis, a Pentagon spokesman, said Monday, Military Times reported. "We take doing right by our service members very seriously, and the senior leadership of this department is looking very closely at this matter."
The Pentagon does not have the authority to waive the debts for individual service members, according to attorneys.
"There is not currently the authority to wave these things writ large," Davis said. "It might require working with Congress to be able to change authorities."
Congress meets on Capitol Hill on November 14. Until then, the troops that are facing payback demands may have to pay interest charges and tax liens if they don't pay the money back.
An anonymous service member told Military.com that he was given $10,000 to leave the reserves and join the California National Guard in 2009, but then had to pay the money back and more.
"I served two years in Iraq and then came home in 2011 to find out the [California Army National Guard] did not have the correct paperwork and I was required to pay back the bonus," he said. "They took $3,000 out for taxes but I had to pay back the full $10,000. How do I get that $3,000 back? The CA ARNG says it is not their problem. I have to work with the IRS. This does not sit well with me as they took out that money!"
[revad2]