Jim Schlegel was 26 years old when he last saw the Chicago Cubs play in Major League Baseball's World Series. Harry Truman was President of the United States and Schlegel was lucky enough get a seat in the bleachers for just $1.20 after spending four years serving his country during WWII. The now 97-year-old super fan was convinced he would never live to seen another Chicago Cubs World Series game.
Thanks to a GoFundMe page created by his granddaughter and the kindness of one extremely generous stranger he will be in attendance for the third playoff game of the 2016 World Series. The GoFundMe page created by his granddaughter read:
My Grandpa is 97 years old. He served in Pearl Harbor and is the BIGGEST Cubs fan I know. He had the opportunity to go see the Cubs in 1945 World Series Game 7 and still has the original ticket stubs. He has been waiting since that heartbreaking day, to see the Cubs in World Series. Please help my Grandpa witness the Cubs in the World Series again.
The page went viral and they reached their $10,000 goal in just one day. However, the funds will not be needed. Rather than pay the hefty price for a ticket Schlegel will be treated to two tickets by Marcus Lemonis. Lemonis is the CEO of Camping World and host of CNBC's "The Profit." He was searching for a deserving fan to bestow his prize upon when the GoFundMe caught his attention.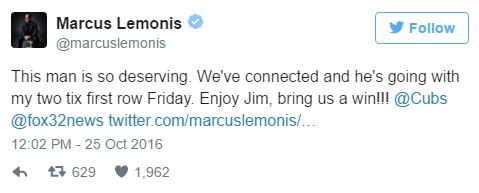 Schlegel and his son will attend the game thanks to Lemonis. Schlegel said he believes the Cubs will win the series and end their 108 year drought. The funds from his GoFundMe page will be donated to the Purple Heart Foundation to help his fellow veterans.
[revad2]