A Vietnam veteran has finally received a long-overdue Purple Heart. Ron Esselstyn was only 22 years old when he was struck by a helicopter's tail rotor with so much force it lodged pieces of his fiberglass helmet into his brain. Esselstyn nearly lost his life that day in the Vietnamese rice paddy but instead went on to live a long an fulfilling life. He made a near-full recovery. He went on to run nearly 100 marathons and earned a living as a  a tax appraiser at the Umatilla County Assessor's Office. However, the modest hero would have to wait until the ripe age of 75 to receive the medal he deserved. Esselstyn believed that, due to his status as an  "advisor" instead of a combat troop, he wasn't due to receive any honors for his service and didn't pursue them.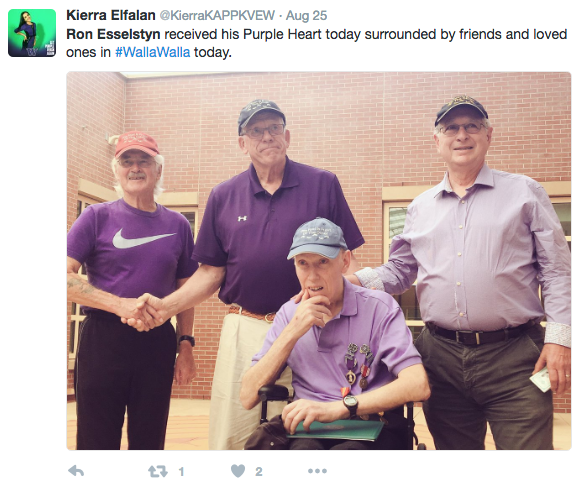 Esselstyn also may have been overlooked due to an Army regulation that states that soldiers are barred from receiving Purple Hearts for vehicular accidents that weren't caused by enemy action. However, in Esselstyn's case, he was injured dodging incoming sniper fire from a Viet Cong sniper, meaning the accident was caused by enemy action. This error was brought to the attention of Oregon Department of Veteran's Affairs Operations Director Ed Van Dyke. Van Dyke made it his duty to see Esselstyn received the medals he deserved.
Thanks to Van Dyke Esselstyn received not only a purple heart but also a  Good Conduct Medal, National Defense Service Medal, Armed Forces Expeditionary Medal, Vietnam Service Medal (with two stars), Republic of Vietnam Campaign Ribbon, Expert Badge and Marksman Badge. The series of medals were affixed to his shirt during a ceremony in front of more than 75 people in the Outpatient Center Atrium at the Jonathan M. Wainwright Memorial VA Medical Center in Walla Walla.
Esselstyn's wife and several prominent community members were in attendance. His childhood friends, a junior high basketball coach, Sen. Bill Hansell (R-Ore. 29th districs) and a VA medical team that Sue Esselstyn has dubbed "Team Hope" were all in attendance. Ron's wife, Sue, told reporters that the now 72-year-old vet was overwhelmed by the ceremony. He remained humble throughout the service, telling his wife afterwards:
"I was shocked I didn't expect all this."
[revad2]