A religious group in the New York town of Oswego is demanding for the removal of the words "Islamic terrorists" from their local 9/11 memorial that was put in place to honor those that died at the hands of Islamic terrorists.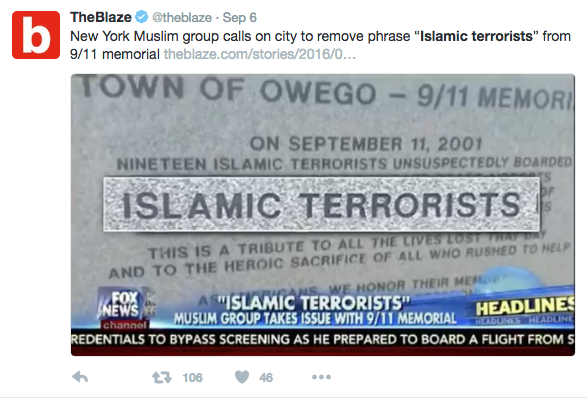 The Children Of Abraham Of The Southern Tier, which is an interfaith organization, is making the claim that the phrase is "encouraging hatred towards Muslims in the city, painting all Muslims with the same brush," the group told KTRK.
The group is asking for the words "Islamic terrorists" to be replaced with the words "terrorists" or "al-Qaeda terrorists."
This is the inscription that is written on the memorial:
"On September 11, 2001 nineteen Islamic terrorists unsuspectedly boarded four airliners departing east coast airports to hijack the planes and carry out a series of coordinated attacks against the United States. This is a tribute to all the lives lost that day and to the heroic sacrifice of all who rushed to help. As Americans, we honor their memory by living our lives in freedom. We will never forget."
The town supervisor of Oswego, Donald Castellucci disagrees with the religious group's stance.
"I don't live in a politically-correct world," he told WICZ. "I live in a historical fact world and terrorism — whether it's American homegrown, Christianity, Islamic — you call it what it is. And we don't whitewash things, especially here."
Castellucci added that he doesn't have any intentions of changing the wording on the memorial since it is not about religion. It is instead about "one event on one day that killed more than 3,000 people."
Former New York City Mayor Rudy Giuliani likened the getting rid of the term "Islamic terrorists" to getting rid of the word "mafia." He said both terms are accurate and people of a certain religion should not be embarrassed because the of the acts of a certain group of people.
Rudy Giuliani reacts to a Muslim group calling for the phrase "Islamic terrorists" to be banned from a 9/11 memorial pic.twitter.com/ATQ9962GCc

— Fox News (@FoxNews) September 6, 2016
[revad2]