The Department of Veterans Affairs has slipped up once again. According to a report by USA Today the agency attempted to quietly start withholding data on the quality of care at its facilities on its website, a responsibility that became required of them following a law enacted in 2014 in response to the wait time scandal.
The V.A. for years had shared data on a multitude of components at their facilities, such as death rates, readmission rates, and other quality levels for patients to be able to accurately compare the facilities between each other and also to compare with private hospitals. The website was run by the Centers for Medicare and Medicaid Services in the Department of Health and Human Services.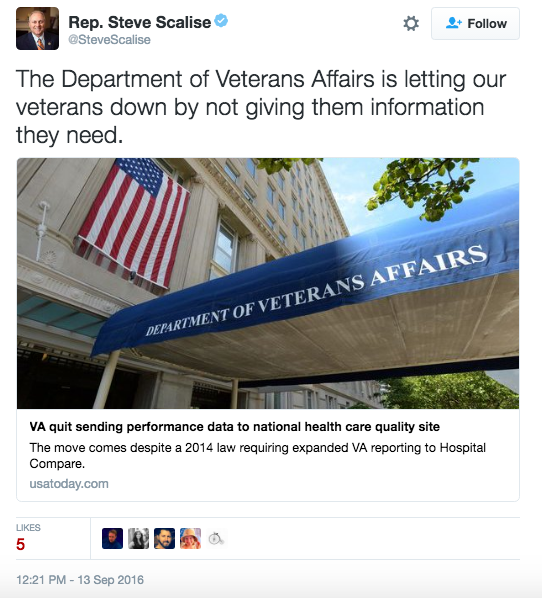 However, during the summer of 2016, the V.A. reportedly stopped reporting the data to the websites and hoped it would go unnoticed. Failing to provide the information not only fails Veterans trying to make informed decisions about where to seek care, but also breaks the law Congress passed which mandated the agency to submit even more data than was previously required.
According the the report, directors at the V.A. said lawyers from the Department of Health and Human Services informed them to stop submitting information to the website until they could come up with a more "efficient" way of sharing it.  Joe Francis, director of clinical analytics and reporting at the Veterans Health Administration said, "It's deeply frustrating to us, and it's our commitment to get back online as soon as we can."
The last data posted to the website was on July 1st, 2016.
[revad2]