The United States has finalized a deal to pay $38 billion dollars to Israel over 10 years, making it the largest pledge of military assistance in U.S. history. The last military assistance deal that the U.S. made with Israel, which pledged $30 billion dollars over a decade, is about to expire and will be replaced with this larger assistance which will begin payouts in 2018.
The "Memorandum of Understanding" (MOU) is set to be signed Wednesday at 2 P.M. at the State Department which will finalize the deal.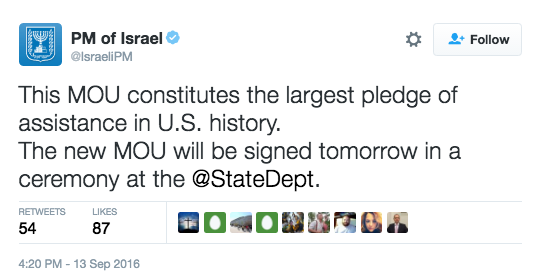 The record breaking pledge comes after many months of negotiations, with reports of Netanyahu initially asking for numbers as high as $45 billion.
Israeli officials have been highly critical of the United States' lifting of sanctions in the Iran Deal and believe that allowing Iran to have nuclear capabilities only threatens Israel's security.
Obama's national security adviser Susan Rice and Israel's acting national security adviser Jacob Nagel are expected to be in attendance Wednesday.
The agreement will force Israel to begin phasing out its ability to spend the funds on Israeli military products and will eventually only permit the Middle Eastern country to buy American military products. Israel's desire to continue to spend the funds on Israeli military industries caused much contention during the negotiation process.
The AP reports that under the guidelines of the MOU, Israel has promised not to request more funds from Congress unless a new war breaks out.
While President Obama and Prime Minister Netanyahu have had a tumultuous relationship during Obama's time in office, the administration was eager to move forward with the agreement before the end of his Presidency to help strengthen his legacy. Though both Presidential candidates in the 2016 election have advocated for protecting Israel, the implementation of the deal before Obama leaves ensures the next administration cannot overturn it.
[revad2]