Medal of Honor recipient and Korean war hero, Navy combat pilot Capt. Thomas Hudner, received an amazing birthday surprise from the U.S. Navy.
Fifty Navy Chief Petty Officers came to Hudner's home in Concord, Massachusetts around noon on Wednesday after travelling from the USS Constitution in Charlestown to sing "Happy Birthday" and "Anchors Aweigh" to honor the Medal of Honor recipient. The officers marched down his street to meet the war veteran outside his home.
The visit to Hudner's home was arranged by a group known as Massachusetts Fallen Heroes. The officers presented Hudner with a piece of the USS Constitution.
He stood on his front lawn and saluted the officers. Afterwards, he shook the hands of all of the officers for their support.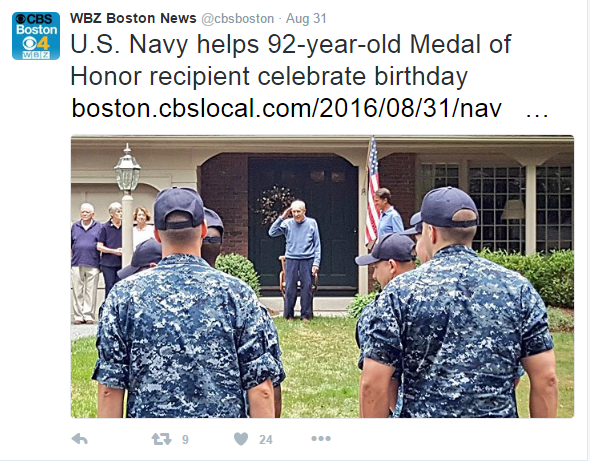 "It's so meaningful," Hudner's son, Thomas Hudner III, told CBS Boston. "He would be the last person to ask for something like this, or any other similar type of recognition. It's completely humbling and moving, and a huge honor that people would make this effort to come out to greet him like this."
Hudner received the Medal of Honor after his wingman, Ensign Jesse Brown, the Navy's first black carrier pilot, was shot down during the Battle of Chosin Reservoir. Hudner purposefully crash-landed his plane in an effort to save the life of his friend. Unfortunately, he was unsuccessful in his effort.
[revad2]