On Wednesday, a federal appeals court ruled that a ban on gun sales to patients holding a medical marijuana card is legal and does not violate the Second Amendment.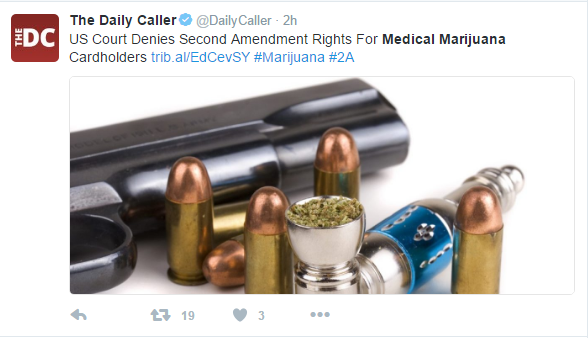 The ruling, which was made by the 9th U.S. Circuit Court of Appeals applies to nine states in the west, including Oregon and California.
S. Rowan Wilson, of Nevada, a medical marijuana cardholder, attempted to buy a gun in 2011 but was denied the sale due to a federal law banning gun sales to illegal drug users. Medical marijuana is legal in Nevada but it is illegal under federal law.
Wilson said that she was not a recreational or medical marijuana user, but only got the card because she is in support of marijuana legalization.
The Federal Bureau of Alcohol, Tobacco, Firearms and Explosives said that gun sellers should not sell guns to medical marijuana card holders because they can assume that because they have one, they use the drug.
The 9th U.S. Circuit Court agreed with that same argument and voted 3-0 in favor of not selling guns to medical marijuana card holders.
The use of drugs, "raises the risk of irrational or unpredictable behavior with which gun use should not be associated," Senior District Judge Jed Rakoff said, the Associated Press reported.
Wilson's attorney, Chaz Rainey said, "we live in a world where having a medical marijuana card is enough to say you don't get a gun, but if you're on the no fly list your constitutional right is still protected."
[revad2]