Prior to the World Cup of Hockey, U.S. head coach John Tortorella said that he would not allow players to protest the national anthem and if they chose not to stand during it, they will not play during the game.
"If any of my players sit on the bench for the national anthem, they will sit there the rest of the game." Tortorella told ESPN's Linda Cohn.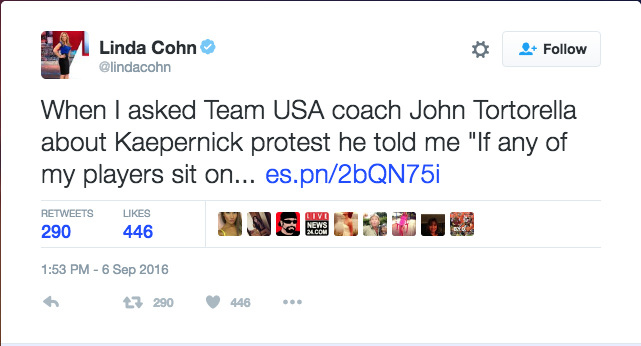 Tortorella's decision to bench players that sit during the national anthem comes amid San Francisco 49ers quarterback Colin Kaepernick's decision to sit during the national anthem in protest of police violence and "the oppression of black people." Other athletes, including Seattle Seahawks cornerback Jeremy Lane and American women's soccer player Megan Rapinoe chose not to stand during the national anthem.
Tortorella does have a large emotional attachment to the American flag and the people that fight for it. His son, Nick Tortorella, 26, is an Army Ranger and has been for roughly four years. Nick has been deployed to the Middle East.
"I know these are hockey games … but I do look at it like it's for my country," Tortorella told the Columbus Dispatch. "What Nick is doing by far dwarfs what we do. We're entertainers; we're playing a sport.
"But with my son over there — this might sound selfish — I want to team up with him and help my country. I get pretty caught up in representing my country. There's nothing like it," Tortorella added.
Earlier this week, Tortorella expressed what an honor it is to represent the United States as the head coach.
"It is hockey, but I also think it is a huge platform for us to represent our country, especially in today's world, with everything is going on," Tortorella told USA Today.
It is unclear if any of the players have intentions of protesting the national anthem or if the national anthem will even be played during the games considering in international games, the anthem is only played for the team that wins a game and in this tournament, the anthem might only be played for the team that wins the tournament.
The United States has three exhibition games that they will play before the tournament, including one against Canada on Friday in Columbus, Ohio.
[revad2]