Officials have stated that seven Afghan military students from four different states have gone AWOL and have been missing since early September. Pentagon spokesman Patrick Evans has stated that immigration services are currently attempting to locate the missing men. Three of the seven missing students went missing on the same day that Ahmed Khan Rahami carried out bombing attacks on New York City and Elizabeth, NJ.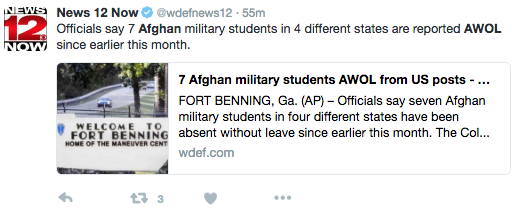 Evans released an official statement confirming the students are missing:
"During the month of September, seven Afghan students were considered absent without leave (AWOL) during international military student programs,"
Two of the three missing men were training at Fort Leonard Wood, Missouri. The other was training at at Fort Gordon, Georgia. Four other other Afghan military trainees that unexpectedly fled from their respective training sites went missing over the Labor Day weekend; two from Fort Benning, Georgia, one from Fort Lee, Virginia, and one from an Army facility in Little Rock, Arkansas.
All of the missing men were expected to return to Afghanistan at the end of their training. It is common for foreign soldiers to come to the United States for training as part of a security assistance and international training and education program. Students going AWOL is a common problem that has occured in the past. Retired Army officer Joe Myers said:
"It is not unusual at times for some foreign students to use the opportunity to not return to their country of origin,"
The missing students have heightened fears of potential terrorists attacks being carried out by the missing men. The Defense Intelligence Agency, FBI, and U.S. Northern Command are all currently working to locate the men and return them to their home country as soon as they are located.
[revad2]