Senator Tom Cotton from Arkansas is among group of leaders pushing Obama to not implement a new "no first use" nuclear weapons policy arguing that it is a major threat to national security. The policy that is being considered by Obama would forbid the U.S. from using nuclear weapons against any enemies first, essentially weakening our capabilities to deter threats of major force before they happen.
Sen. Cotton is being joined by fellow Arkansas Senator John Boozman and 28 other Republican Senators in fighting back against the Obama Administration's potential proposal. Though the administration has not moved forward with the idea yet, the elected officials wrote a letter to Obama this week making the plea for him not to implement the "dangerous and irresponsible" policy.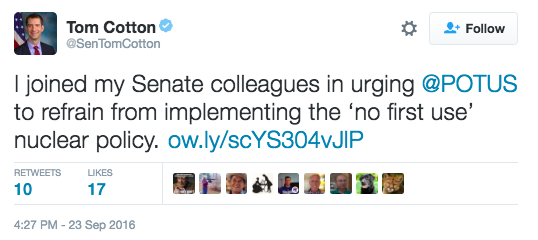 "While no American wishes to employ nuclear weapons in conflict," the Senators wrote, "establishing a no first use policy would weaken the nation's security and make the world less safe by crippling America's nuclear deterrence posture-a stabilizing agent for the cause of peace across decades-and further incentivize allies and enemies alike to develop nuclear weapons or other weapons of mass destruction and the means to deliver them."
The letter went on to say that a no first use policy "would severely reduce the value of our nuclear deterrent, limit the options of America's future leaders to safeguard the legacy of peace, and undermine the credibility of our alliances" adding that "some hostile countries possess biological, chemical, and radiological weapons that have the potential to kill scores of Americans or allied citizens."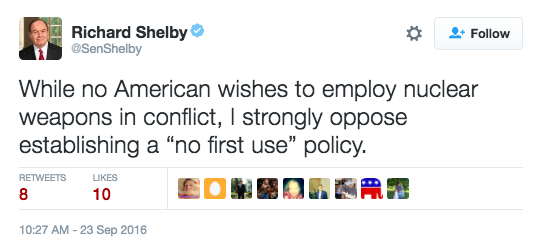 They went on to say that terrorist groups "actively seek the expertise to build their own weapons and steal material from countries that possess it" and that it would be "exceedingly unwise to forgo the option of a nuclear strike against such enemies to end a conflict on terms favorable to the United States and our allies."
The Senators also pointed out in the letter that Secretary of Defense Ash Carter, Secretary of State John Kerry, as well as Secretary of Energy Moniz all reject such a policy as both Republican and Democratic administrations have done since World War II.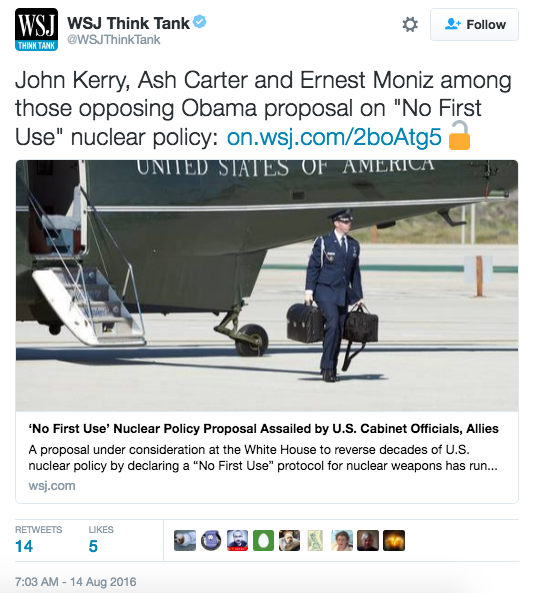 President Obama has yet to make a formal decision on whether or not he will implement the policy before leaving office.
[revad2]