Republican Congressman Mike Pompeo and Republican Senator Tom Cotton recently traveled to two Scandinavian countries to take a first hand look at how the nations are dealing with the European Migrant crisis. As outlined in their op-ed in the Wall Street Journal, they found that Norway's stricter migrant policies were far favorable to Sweden's politically correct approach which has allowed hundreds of thousands of dangerous refugees flood their cities and cause turmoil.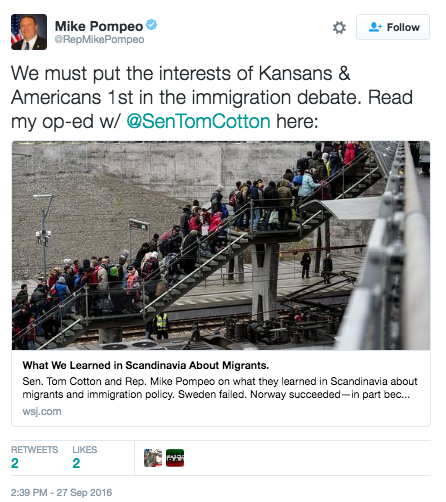 Rep. Pompeo from Kansas and Sen. Cotton from Arkansas underlined the importance of studying the comparisons of the two countries to better understand how to tackle the growing immigration problem we have here in the United States. While looking at Norway, they acknowledged that the European nation had an immigration policy that is deemed "strict but fair," accepting immigrants from other nations while putting regulations to stop the influx of uncontrolled migration.
"It imposed new border controls featuring a border fence, increased waiting periods for residency and deportation of ineligible migrants. It also reduced migrant benefits to match those offered by its neighbors. Norway even advertised in foreign nations, warning that migrants who do not face war or persecution will be deported."
The result, they said, was a 95% decrease in Asylum applications, which allowed the country to take part in the humanitarian efforts of helping refugees while keeping it at a pace that was controlled and manageable. Sweden, on the other hand, took a far more disastrous approach.
"Sweden threw open its doors in 2013, offering Syrian refugees permanent residency. Asylum applications from across the world—not just Syria—spiked. Sweden has since received more than 280,000 migrants, and counting. That is by far the most migrants per capita of any EU nation and akin to the U.S. adding the population of Michigan. These migrants are disproportionately poor, young, male, undereducated, conservatively Muslim and possess virtually no Swedish-language skills."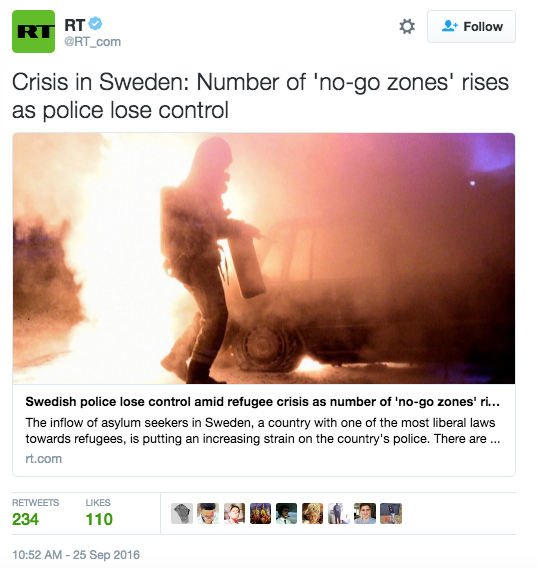 The elected officials explained that this policy was able to be so easily adapted because of a political correctness phenomenon they call åsiktskorridor, or "the opinion corridor," which leaves the public silent on issues for fear they will be called "racist" or "xenophobic" if they spoke out against such issues. Since the problems have arose, the Government has felt enough public backlash that they have finally decided to be stricter on immigration, but have also dedicated financial support to the migrants that's not in their budget.
"The parallels to the U.S. immigration debate are clear. For years, a bipartisan elite consensus has favored the mass immigration of unskilled and low-skilled workers into America coupled with the legalization of millions of illegal immigrants already here. Only one thing has stopped these elites from their desired immigration policy: Two-thirds to three-quarters of Americans consistently oppose any increase in immigration."
As Sen. Cotton and Rep. Pompeo highlight in their WSJ op-ed, it's the political correctness that allows society to run amuck and institute bad policies for fear of looking intolerant and bigoted. Republican Presidential Candidate Donald Trump has campaigned to be less politically correct in order for our national security to remain intact.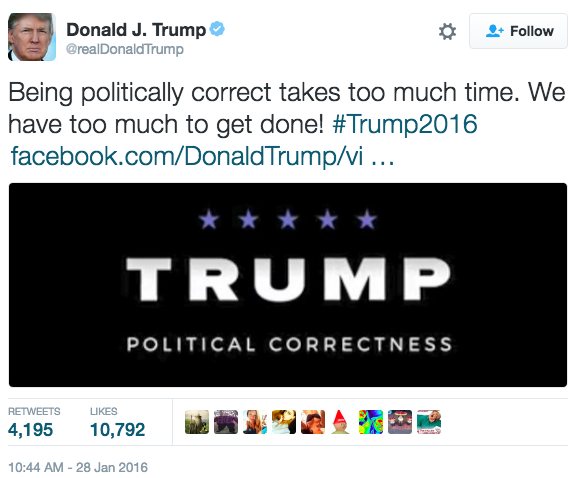 "One need not support Mr. Trump to acknowledge these reasonable concerns of the 14 million Republicans who voted for him in the primaries and the tens of millions who will vote for him in November," the Congressman and Senator said. "These voters are not xenophobic or racist. They simply want the priority of America's immigration policy to be the economic and social interests of American citizens."
Norwegian leaders "responded to similar concerns and their country is safe and stable" and Swedish leaders "didn't and their country faces economic, social, and political upheaval," said Sen. Cotton and Rep. Pompeo. "There is a lesson here for American elites."
[revad2]