The controversy surrounding Colin Kaepernick's decision to not stand during the national anthem is a highly debated topic that some people are tentative to act upon, except for a Michigan high school football team who stood for the national anthem even though they were told before the game that the anthem would not be played.
The Lapeer Lightning's freshman football team were told before their game on August 31 by the host team's announcer that the national anthem would not be played before the game. This was not acceptable for the team, who chose to honor the anthem anyway by standing and saluting the flag while singing the national anthem with no music.
The host team for the football game in the Flint Township is Carman-Ainsworth Community School.
"We're just super proud of our guys to overcome that situation and take it upon themselves to sing the national anthem. We couldn't be prouder," Lapeer High School athletic director, Shad Spilski told Mlive.
Carman-Ainsworth Community Schools Superintendent Eddie L. Kindle said the national anthem was played after the junior varsity game later, which happened later on.
Kindle said it is common for schools to only play the national anthem before the game that is at a higher level of competition and that the choice not to play the national anthem was not out of protest.
"That is common and typical in many communities in Michigan," Kindle said. "We have never and will never refuse to play the national anthem."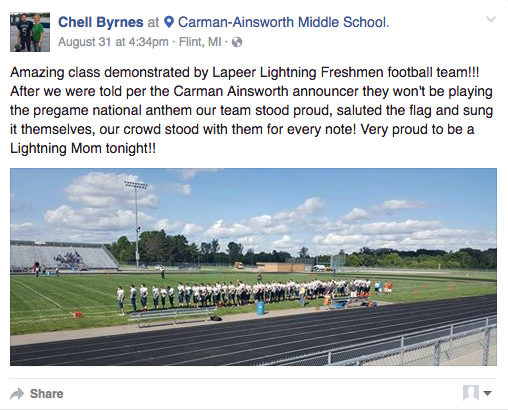 [revad2]