Samsung announced that they will be recalling millions of Galaxy Note 7's after there were several reports that their phones were catching fire and exploding when being charged.
The problem was traced back to the phone's lithium battery, forcing the company to recall the brand new Galaxy Note 7 which was just unveiled a month ago.
Samsung plans to replace the more than one million devices that are currently in in the hands of customers with a free phone. So far, 2.5 million Galaxy Note 7's have been sold, all of which have been recalled.
Samsung said it will take approximately two weeks to prepare for the recall of the millions of phones. The date that new phones will be available to Samsung users will vary by country.
One country that doesn't have to worry about the recall is China because the Galaxy note 7's used a different type of battery that doesn't explode.
South Korean Yonhap news agency recently reported that there had been five claims of Galaxy Note 7's catching fire all around the world. Samsung said that there are roughly 24 phones with problems for every million of them sold and so far they are aware of 35 phones that have either caught fire or exploded.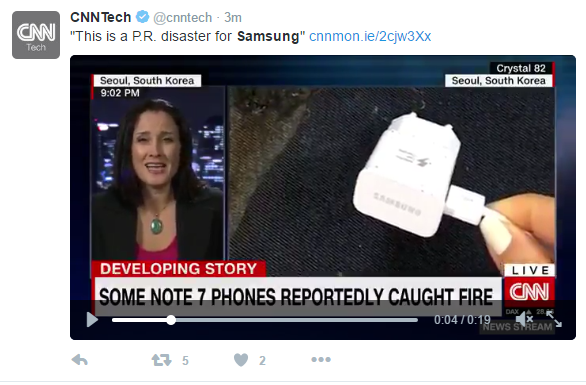 "The recall, the first for the new smartphone, comes at a crucial moment in Samsung's mobile business," the AP reports. "Apple is scheduled to announce its new iPhone next week, and Samsung's mobile division was counting on momentum from the Note 7's strong reviews and higher-than-expected demand."
Koh Dong-jin, president of Samsung's mobile division, told reporters the recall "will cost us so much, it makes my heart ache," the AP reported. "Nevertheless, the reason we made this decision is because what is most important is customer safety."
The phone costs at least $850 at certain U.S. mobile networks. Besides the exploding battery problem, the phone had good reviews because of all its new features, including the iris scanner which unlocks the users phone with their own eyes.
[revad2]