Ohio police are taking a controversial approach to raising awareness about the heroin epidemic that is sweeping across the United States. East Liverpool has been hit particularly hard by the negative consequences of the highly addictive drug. When officers came across an adult couple overdosing in the front seat of an SUV while the man's 4-year-old son helplessly looks on from the backseat they decided enough is enough. Officers took photos of the heartbreaking scene and posted them to their official Facebook page for all to see. A spokesperson from the East Liverpool Police Department hopes that the photos "shock" community members into acknowledging the ever-growing problem.
Police noticed a suspicious SUV driving erratically around town. They followed the vehicle for a short period of time until the vehicle made a sudden stop, narrowly avoiding a school bus, and sat in the middle of the road. Inside the vehicle James Acord and Rhonda Pasek were both seen "nodding out" in the front seat while Acord's son sat in the back seat. Police say Acord was operating the vehicle despite barely being able to keep his eyes open. Acord attempted to explain to police that he was bringing Pasek to the hospital for a heroin overdose. Unfortunately, in his highly inebriated state he was unable to explain himself clearly.
Officers took photos and shared them on their Facebook in the following post.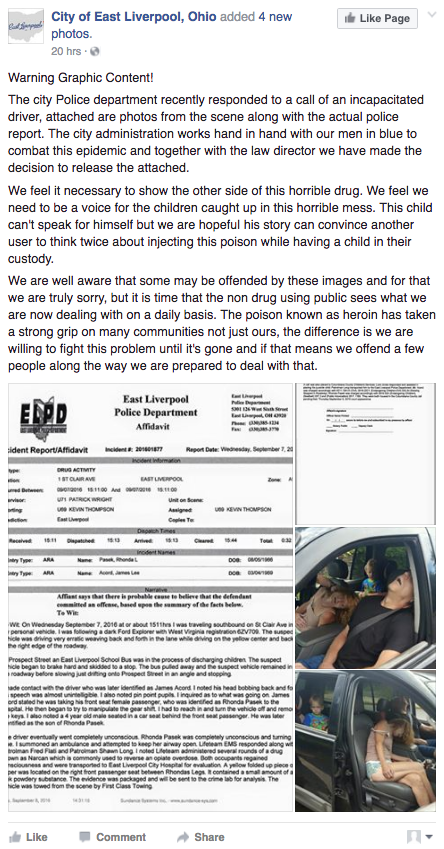 The officers state that they wanted to bring awareness to the suffering the highly addictive drug causes for family members of the drug addicts.
"We feel it necessary to show the other side of this horrible drug We feel we need to be a voice for the children caught up in this horrible mess. This child can't speak for himself but we are hopeful this story can convince another user to think twice about injecting this poison while having a child in their custody."
Both adults survived the overdose. Acord is being charged with operating a vehicle while intoxicated, slowing or stopping in a roadway, and endangering the life of a child. Pasek is also being charged with endangering a child. She will also be charged with not wearing a seatbelt and public intoxication. Acord's son has been removed from the neglectful environment and is currently being held in the custody of Columbiana County Children's Services.
[revad2]