The NRA decided to show their support for Democratic gubernatorial candidate, Attorney General Chris Koster, over Navy SEAL Eric Greitens in the race for governor this upcoming November election.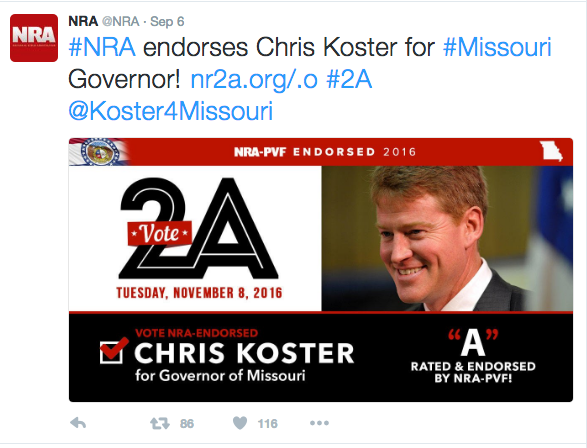 "Chris Koster has never wavered from his Second Amendment beliefs. For over 17 years, he has fought to preserve the constitutional rights of law-abiding Missourians," Chris W. Cox, chairman of the NRA's Political Victory Fund, said in a statement. "The NRA is proud to endorse Chris Koster and we urge Missouri's gun owners and sportsmen to get out this November and vote to elect a governor with a proven record of fighting to preserve the Second Amendment."
Koster, 52, a former GOP lawmaker in the state legislature earned an "A"rating for his contributions towards Second Amendment rights.
Some of his contributions for the Second Amendment include the joining of more than 11 Amicus briefs in support of Second Amendment rights and the support for the veto override of self-defense legislation SB 656, which would make Missouri the 11th state to codify the right to carry a concealed handgun without a permit.
Koster advocated for mandatory minimum sentences for felons that are in possession of guns. He also advocates for high bails for criminals that use or possess firearms. He has many other pro-Second Amendment accomplishments including his large support for legislation that protects a person's right to carry.
Koster's opponent,Eric Greitens,is Rhodes scholar and Navy SEAL who completed Navy SEAL (BUD/S) training in 2002. He also deployed several times overseas. His campaign shows that he is pro-Second Amendment, but they have said that they did not expect him to receive the NRA's support.
Some of his campaign ads show Greitens shooting guns, including one of him firing a mini-gun as a way to fight against Obama's "Democrat machine."
[revad2]