The New York Mets signed former Heisman trophy winner Tim Tebow to a minor league contract on Thursday. The college football stud turned NFL quarterback will begin his professional baseball career in the fall instructional league on Sept. 19 in Port St. Lucie, Florida. Sandy Alderson, General Manager for the Mets, insists that the signing is no publicity or PR stunt. The 29-year-old MLB hopeful was given a was given a $100,000 signing bonus by the Mets after holding a workout to show off his skills to scouts from 28 teams in the league.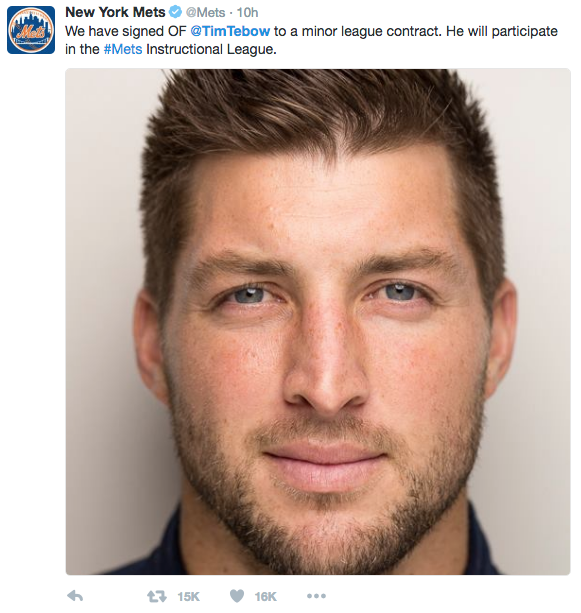 Tebow has never played professional or amateur baseball. He hasn't played baseball at a competitive level since high school. Despite his lack of experience the New York Mets coaching staff believes his raw throwing power and natural athletic ability may translate into a successful career in the outfield of the Mets stadium, Citi Field. Alderson told reporters:
"While I and the organization I think are mindful of the novel nature of this situation, this decision was strictly driven by baseball. This was not something that was driven by marketing considerations or anything of the sort. We are extremely intrigued with the potential that Tim has. He has demonstrated over his athletic career that he is a tremendous athlete, has great character, a competitive spirit. And aside from the age, this is a classic player development opportunity for us."
Tebow acknowledged that he has a lot of hard work ahead of him but believes he can succeed in the sport through hard work and determination.
[revad2]