A San Antonio mattress company was forced to apologize following an offensive ad that they made promoting a "Twin Tower Sale" for 9/11.
The company, Miracle Mattress created the video showing two employees calling into a stack of mattresses that are supposed to represent the Twin Towers falling. The video was then later posted to Facebook.
Miracle Mattress manager Cherise Bonanno can be heard saying "What better way to remember 9/11 than with a Twin Tower sale?"
After saying that the sale is going to last all day long, two men behind her fall into the stack of mattresses, simulating the attack on the twin towers by Islamic terrorists.
"Oh my god," Bonanno says. "We'll never forget."
Following the backlash received after posting the video, the owner of the business, Mike Bonanno wrote an apology letter, which was then posted to Facebook.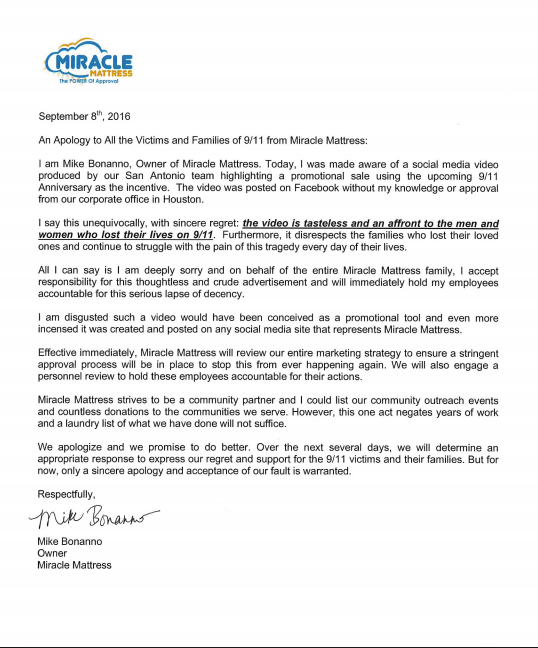 "The video is tasteless and an affront to the men and women who lost their lives on 9/11," Bonanno wrote in bold. "Furthermore, it disrespects the families who lost their loved ones and continue to struggle with the pain of this tragedy every day of their lives."
"All I can say is I am deeply sorry and on behalf of the entire Miracle Mattress family, I accept responsibility for this thoughtless and crude advertisement and will immediately hold my employees accountable for this serious lapse of decency," Bonanno added. "Effective immediately, Miracle Mattress will review our entire marketing strategy to ensure a stringent approval process will be in place to stop this from every happening again."
Many people on Facebook commented on the apology and said that it was unacceptable.
Since then, the company took the video off of their Facebook page.
[revad2]