Air China has reportedly stocked all of their airplanes with a magazine containing advice warning Chinese tourists to avoid minorities while traveling in London. The Chinese airline's monthly in-flight magazine for the month of September warns passengers to exercise precautions when "entering areas mainly populated by Indians, Pakistanis and black people."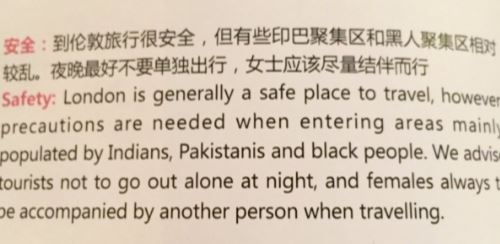 The magazine was included as part of the in-flight entertainment for a flight to London. The remarks in the monthly publication titled "Wing Of China" also advised visitors to refrain from going out alone at night and for female visitors to never travel alone regardless of the time of day.
British politician Virendra Sharma issued an official statement saying:
"I am shocked and appalled that even today some people would see it as acceptable to write such blatantly untrue and racist statements."
He has demanded that the magazine be pulled from Air China's twice daily flights to and from the UK. He has invited representatives of Air China to tour the area and show them that it is safer and more secure than they believe. He states that if they refuse his offer he will be:
"forced to question whether Air China is a fit company to operate in the UK."
There has been a 46% increase in the number of flights from China to the UK last year. Meaning that losing approval from the British government could have massive financial repercussions for the airline.
[revad2]