A 63-year-old Japanese man says he used his karate skills to fight off a black bear that viciously attacked him.
Atsushi Aoki was fishing when the bear, which was just above six feet tall, attacked him in what he said was an unprovoked attack.
The bear was so strong, and it knocked me down," Aoki told Tokyo Broadcasting System. "It turned me over and bit me right here," he said pointing to his leg.
Despite this, he decided to fight against the bear instead of running away from it. In the "do or die" situation, he stood up and jabbed at the bears eyes, scaring it and forcing it to run away.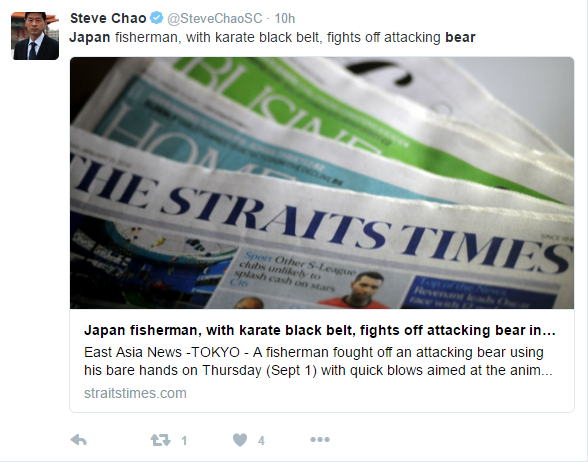 He made his way back to his car despite the wounds to his legs, arms and head. He drove himself to a hospital in Gunma which is north-west of Tokyo.
"He drove himself to hospital, and he even remembered to grab the fish that he had caught," a police officer told AFP.
The Japanese media called the man's actions a victory for man versus nature. Japanese authorities said that other people should not do the same thing that the man did if they were to come to a similar situation.
[revad2]