ISIS no longer holds control over any oil sources in Iraq. The terrorist group has completely lost control of all Iraqi oil fields and wells following the recapture of the oil-rich towns of Shargat and Qayyarah by the Iraqi army. The terrorist group must now rely on other resources to fund their terrorist activities after nearly two years of operating several oil wells in Iraq.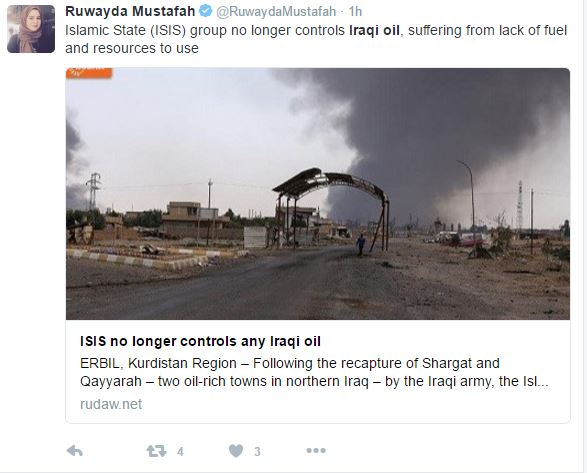 The terrorist organization is believed to have a small amount of Iraqi oil stored away in off-site containers but lost access to the nearly 62 oil wells and 5 billion barrels of oil in underground wells. Kurdish Peshmerga forces have also driven ISIS out of the Hamrin and Hijel oilfields, further limiting their access to the profit producing liquid.
Dr. Bewar Khinsi, an economic adviser to the Kurdistan Region's intelligence agency, states that this will not only prevent ISIS from generating profits, they will also be forced to purchase oil to continue their activities. He told reporters:
"Iraq is no more a home to oil for ISIS. Not only is the group unable to sell oil, but also they want to buy it in order to maintain its activities,"
Iraqi and Peshmerga forces have been slowly chipping away at one of the terrorists organizations main source of income for years. The revenue generated was used to fund their rapid expansion through large areas of northern and western Iraq. It is believed that ISIS earned approximately $750,000 a day and $22.8 million dollars a month through extracting and smuggling crude oil.
With one of their main sources of income cut the group is now looking for new ways to generate income. It is rumored among inhabitants of Mosul that people will be permitted to leave the city if they pay a fee of $4,000 each. However, many citizens are reluctant to pay the fee and flee the war-torn city due to a general distrust of ISIS. One resident, that requested to remain anonymous told reporters:
"the Mosul people do not trust ISIS as they believe they will lose both, their lives and money."
ISIS has also raised the price of its remaining oil and increased "taxes" on local residents to compensate for the loss.
[revad2]