Five soldiers were injured when their helicopter made a hard landing at Fort Campbell, Kentucky. The injuries occured during a routine training exercise at approximately 10:30 pm on Wednesday. All five soldiers that we on board at the time of impact have been rushed to local medical treatment facilities for care.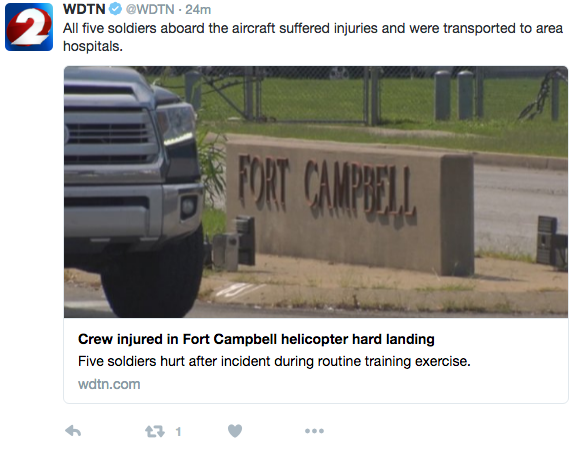 Fort Campbell officials have declined to release additional information regarding the names of the soldiers involved but have revealed that the helicopter they were riding in was a Chinook. They have reported that two of the soldiers were transported to Vanderbilt University Medical Center, where they were listed in stable condition. The others were briefly treated at Blanchfield Army Community Hospital before being released.


Lt. Col. Fred Wellman, a retired Army aviator, commented on the incident. He stated that many military helicopters are designed to absorb the impact of hard landings and distribute the force around the soldiers inside. "The aircraft did its job if all five of them survived," he said. It is unclear at this time whether or not the soldiers were part of the infamous 101st Airborne Division, which calls Fort Campbell its home. The incident is currently under investigation.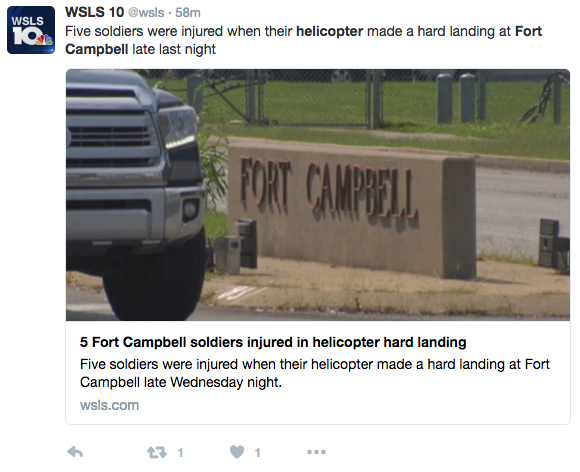 [revad2]