Donald Trump took to the podium at the American Legion National Convention Thursday morning in Cincinnati, Ohio to speak to the Vets and showcase his plans if he were elected President in November.  The Republican Presidential nominee spoke of protecting Vets, honoring the flag, and made a few comments about his political rival: Hillary Clinton.
After championing the American Legion members for their "strength, courage, and selfless devotion," Trump began his speech with a slight to Clinton, mentioning that he believes in "America First" and the policies of "Americanism.  Not Globalism." following Clinton's remarks about American exceptionalism being a reason to get involved in world affairs during her speech at the convention yesterday.
Trump continued that he wanted to speak of the many goals he and the American Legion would like to accomplish if he were to be elected, but that he wanted to begin by discussing one goal that he believes to be the move important: "promoting American pride and patriotism in America's schools,"  he continued, "In a Trump Administration, I plan to work directly with the American Legion to uphold our common values and to help ensure they are taught to America's children."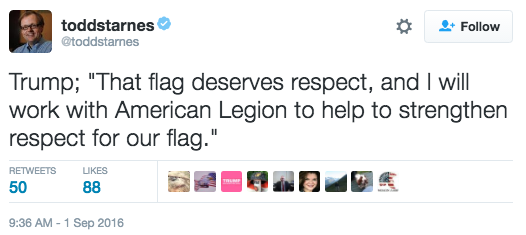 "We will stop apologizing for America and we will start celebrating America."
"The flag all of you help to protect and preserve, that flag deserves respect and I will work with the American Legion to help strengthen respect for our flag." As a way to acknowledge the current state of affairs of citizens arguing over the flag and the national anthem, specifically Colin Kaepernick refusing to stand before a NFL game.  "You see what's happening.  It's very, very sad."
He moved on saying that in addition to teaching respect to the flag, "we also have to make sure we give our military the tools they need to defend that flag and to deter violence and aggression from our foreign adversaries of which there are many."
"We will rebuild our depleted military," he said, " and pursue a state of the art missile defense.  We will do it based on those three very famous words: 'peace through strength.'"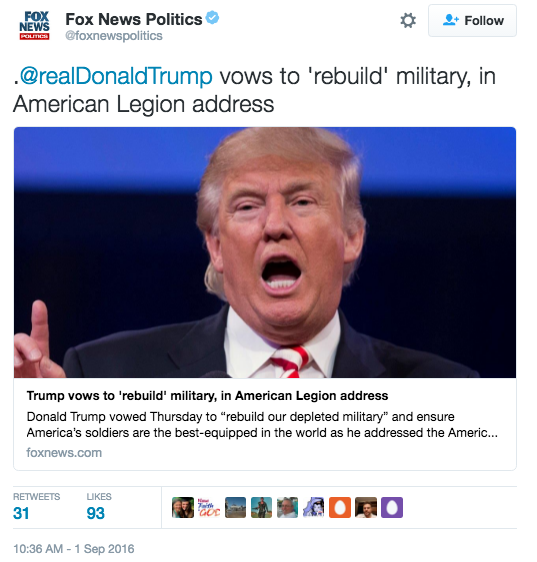 He continued saying that we will ensure the men and women serving in the military will have all they need to serve our country and that they will have "the best medical care in the world, both in service and when they return home as civilians."
"That will require a total reform of the Veterans Administration.  It's in very sad shape."
He told the crowd he has a 10 step plan to reform the VA on his website, before laying out the basics which included appointing a new VA secretary that would work to serve Vets not bureaucrats, use every lawful authority to remove and discipline those who fail Veterans, and appoint a commission to investigate wrong-doing to present it to Congress as the basis to reforming the whole system.
While speaking about VA reform, he said that "the Veterans healthcare system will remain a public system" but included that "Veterans will have the right to go to a VA facility or the right to see a private doctor or clinic of their choice, whatever is the fastest and best for Veterans.  People are not going to die waiting on line to see a doctor.  It's not gonna happen."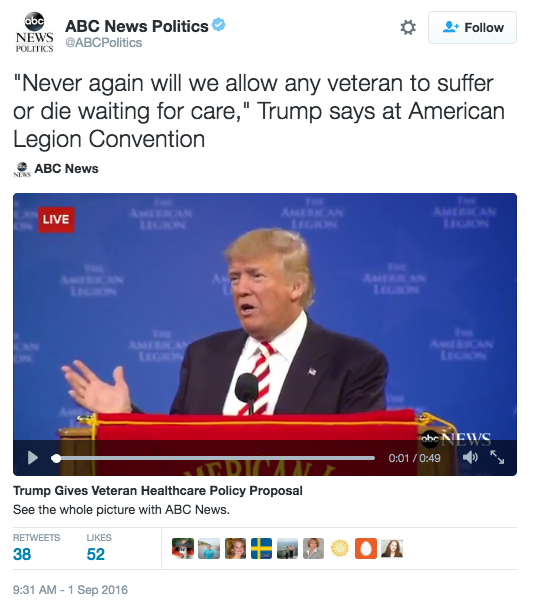 He stated: "The Veteran will be in total control."
Trump brought up his visit to Mexico, saying that he and President Enrique Peña Nieto spoke about the two countries working together to accomplish great things for both nations.  He said that the two agreed on "the need to stop the illegal flow of guns, drugs, cash, and people across the border, and to take out the cartels," He said  "we have to get rid of those cartels."
Speaking briefly about his plans to build an American Energy Revolution and appointing new justices to the Supreme court that mimic Scalia's values, he moved back to discussing his stance on America's responsibility to the world and his plans for the military in combating ISIS.
"Above all, these next four years, I will be uncompromising in the defense of the United States, and our friends, and our good allies.  We are going to end the era of nation building and create a new foreign policy joined by our partners in the Middle East that is focused on destroying ISIS and radical Islamic terrorism."
"We will extend the hand of friendship to any nation that will work with us in good faith on this vital mission, and we want this mission to be accomplished quickly. At the same time," he continued, "we will change our immigration screening procedures to help keep terrorists and extremists out of our country.  We have enough problems."
He continued that "that includes stopping the influx of Syrian refugees.  Incredibly, my opponent, Hillary Clinton wants a 550% increase in refugees from that region.  Hard to believe."
"We do not want to let anyone in our country who doesn't support our values and who is not capable of loving our people."
He continued saying that it is time for an honest government which includes an honest State Department and not one that has "pay-for-play" adding, "She probably didn't mention that to you yesterday," taking a jab at Hillary Clinton whose time at the State Department is criticized for letting Clinton Foundation donors influence her decisions as Secretary of State.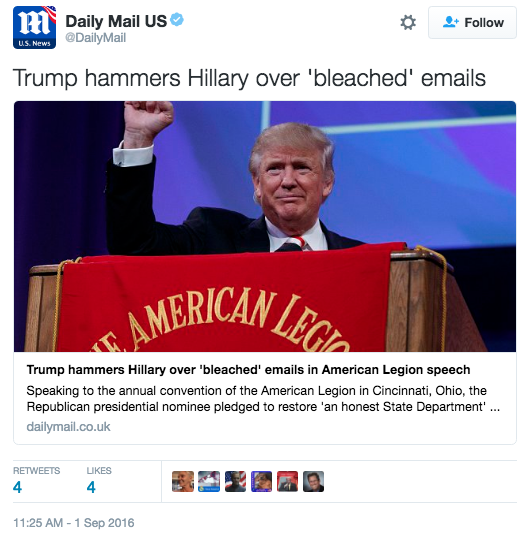 Trump made sure to comment on Clinton's email scandal, seemingly going off the teleprompter to point out that she "bleached" her emails to get rid of them asking, "Why? You ask yourself 'what's going on?'"
"We will also have an efficient and responsible Federal Budget.   No more waste, no more throwing away tax payer dollars," he said. "Once more we will have a government of, by, and for the people.  It will be an inclusive society, one that offers hope and opportunity to every part of this country, including our inner cities."
"We will follow the noble example of our military men and women, working selflessly across all different races, and incomes, and backgrounds to achieve unity and accomplish amazing things.  You are amazing people," he said. "Just incase you didn't know that."
"Ladies and gentleman of the American Legion, I ask today for the honor of your vote. Working in unison, we can deliver the real American change our country so desperately needs." he said.
He ended the speech with his campaign mantra, "We will make America strong again.  We will make America proud again.  We will make America safe again.  We will make America Great again."
[revad2]