A Russian jet intercepted and came within ten feet of a U.S. spy plane conducting a regular patrol over the Black Sea in international airspace  on Wednesday, defense officials told Reuters news agency.
A Russian Su-27 Flanker jet flew within ten feet of a U.S. Navy P-8 surveillance plane, which is mainly used for anti-submarine warfare, one defense official said. The incident lasted for roughly 19 minutes.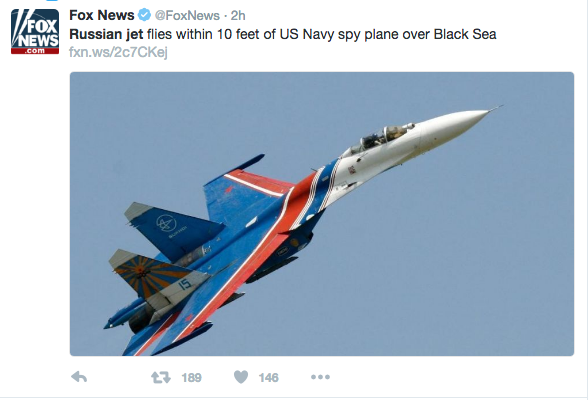 One official said that the intercept was deemed "unsafe" by the pilot. The officials said they were talking to the pilot to determine whether the topic of the intercept should be included in an annual meeting between U.S. and Russian officials regarding more serious intercepts.
The Russian defense ministry claims that they did not violate any international rules and that the U.S. Navy aircraft was flying with its transponder off. "It is not a requirement for a military aircraft to have its transponder turned on," a defense official told Fox News. The official did not confirm or deny whether the transponder was turned on or off at the time of the intercept.
The official added that it is common for Russian aircraft to have their transponder off because it helps the U.S. military to identify the aircraft because other aircraft in the area have their transponders turned on.
Fox News was told that there is a photograph of the incident but defense officials are not sure on whether to release it.
"We have concerns when there is an unsafe maneuver like this. These actions have the potential to unnecessarily escalate tensions, and could result in a miscalculation or accident," Navy Captain Jeff A. Davis told reporters.
The incident comes at a time where there are increased tensions between the two countries, which are on opposing sides of the Syrian civil war.
[revad2]