[UPDATE: September 19, 2016 2:15 pm] The Associated press has reported that authorities have found no evidence indicating the suspect is part of a larger terrorist cell at this time.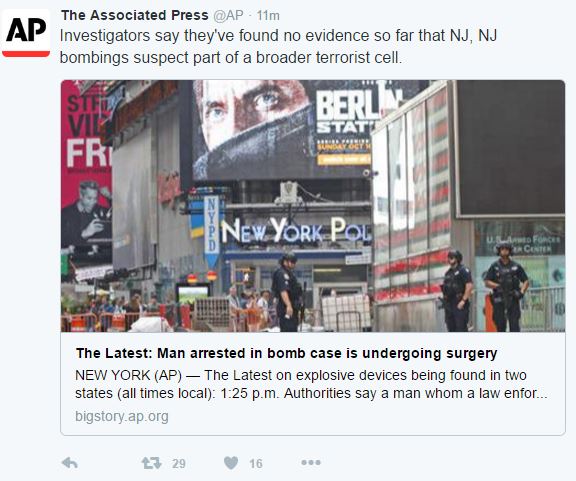 Law enforcement officials released the name of an individual that is suspected of being involved in the bombings of New York City and New Jersey. The discovery of multiple unexploded devices led authorities to believe that a potential terror cell could be behind the attacks.
Ahmad Khan Rahami, 28, of Elizabeth, New Jersey is the person of interest in the investigation. Rahami is a U.S. citizen of Aghan descent who is considered to be armed and dangerous by the FBI.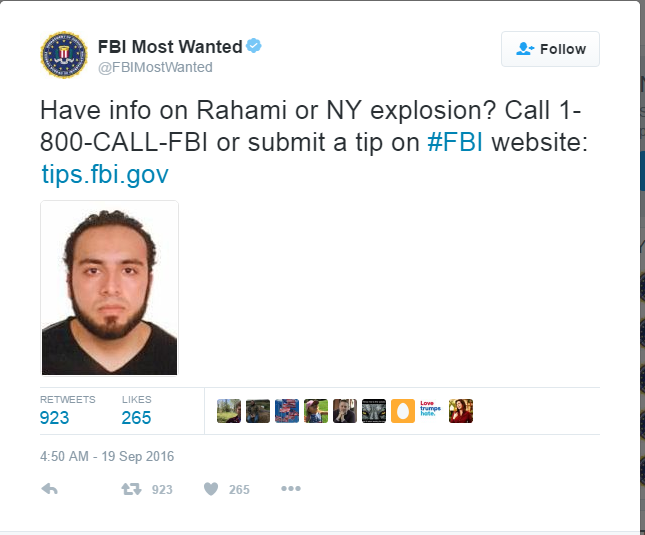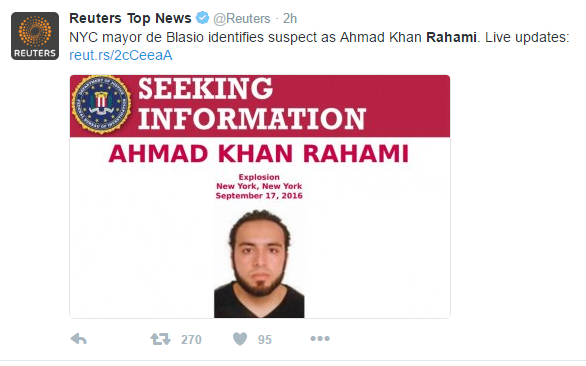 He is being sought for questioning for an explosion at Seaside Park on Saturday morning, an explosion that injured 29 people in the Chelsea neighborhood of Manhattan as well as for a backpack with several bombs inside near a train station in Elizabeth, New Jersey. One of those bombs near the train station exploded with a bomb squad robot attempted to disarm it. The explosion came just before 1am ET Monday morning.
The backpack was found around 9:30 pm Sunday night roughly 500 feet from a New Jersey train station. People picked it up thinking it was something of value but then realized that it had wires sticking out of it. It was dropped back into the wastebasket and 911 was called.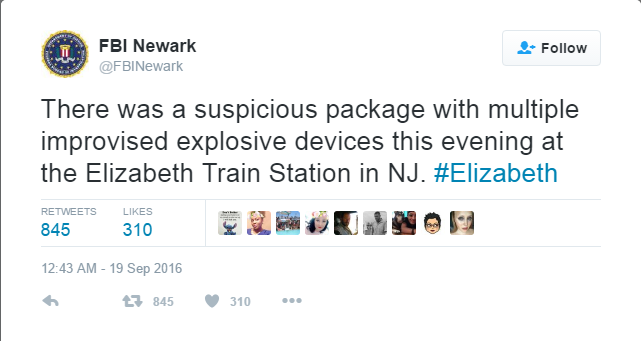 Rahami is roughly 5 feet, 6 inches tall and roughly 200 pounds with brown hair, brown eyes and facial hair.
"Today I believe we're going to find out that [the bombing] was influenced by foreign sources," Gov. Andrew Cuomo said early Monday Morning on "Fox and Friends."
Federal authorities conducted a traffic stop of a "vehicle of interest" in the Chelsea bombing Sunday night. A law enforcement source told Fox News that a "number of individuals" who are possibly connected to the explosion were taken into custody but no one has been charged. At least five people are being questioned.
Officials believe that surveillance footage from the site of the explosion in the Chelsea neighborhood shows Rahami as the man behind the attacks.
Governor Cuomo said that there will be an additional 1,000 New York State Police officers and National Guard troops at bus terminals, subway stations and airports.
NBC News learned that around 6:00 am ET, officials said that FBI agents were spotted at a fried chicken restaurant in Elizabeth, New Jersey, which is near the last known address of Rahami.
[revad2]