On Wednesday, a Congressional panel voted to move forward and issue a subpoena to the Department of Veterans Affairs after the agency failed to provide requested documents pertaining to construction costs and excessive art expenditures at V.A. facilities throughout the country.
During the tense meeting, Republican and Democrat lawmakers battled over the proper means to retrieve the information they had yet to receive from the agency.  For over a year, members of Congress have been waiting for Secretary McDonald and the V.A. to provide information on the construction on its Aurora Medical facility that has been delayed and has cost more than $1 billion dollars to build this far, plus complete documentation on art expenditures at all its facilities which is reported to have cost taxpayers more than $20 million dollars since 2010.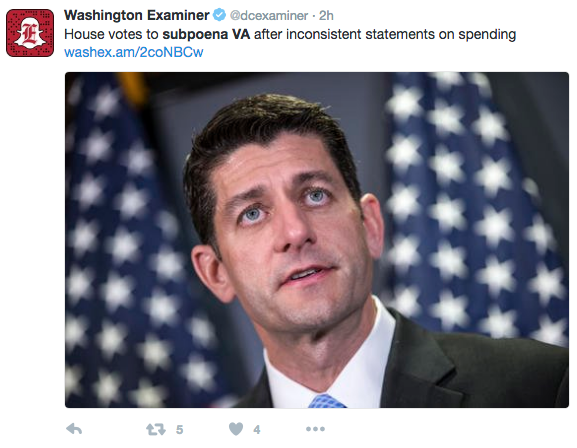 Chairman of the House Veterans Affairs Committee, Republican Rep. Jeff Miller from Florida, said during the meeting that until the committee threatened to issue a subpoena to Department of Veterans Affairs, the agency didn't make "any attempt to respond" to the requests to obtain the information.  He spent the meeting reaffirming that the V.A. had enough time to respond and the panel should issue the subpoena so they can move forward with the investigation.
Democratic Congressman Mark Takano from California opposed the motion to subpoena the V.A. stating that the un-redacted documents Republicans are requesting  might expose the identity of whistleblowers, a risk they cannot take.  Rep. Takano consistently advocated to hold off on the subpoena and amend the request to ensure that personal information would not be forced to be shared with Congress.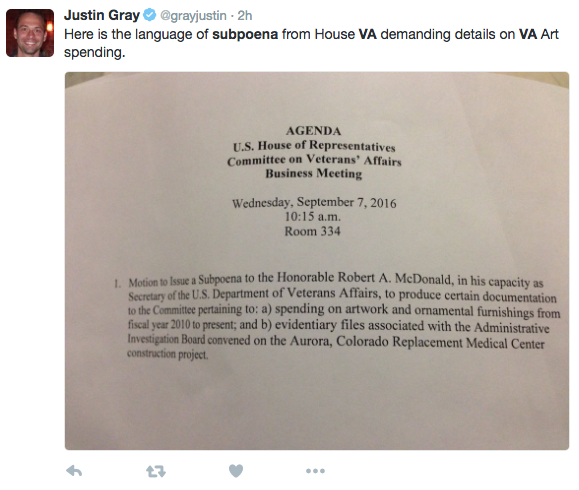 Ultimately the committee voted in favor of issuing the subpoena.  Rep. Miller and his constituents are eager for the agency to explain why the Aurora facility construction costs nearly tripled it's projected costs, now costing about $1.7 billion on the still incomplete project.  In addition, documentation relating to the reported $20 million dollar art spending spree, which occurred during the years the agency was forcing Veterans into long wait times for medical care, will help to expose who is responsible for the outrageous overspending and ensure that they are finally held accountable.
[revad2]