After a weekend that saw a bomb explode at a Marine Charity race and another explode in downtown Manhattan, a second bomb found in downtown Manhattan and a mass stabbing in Minnesota in the name of Allah there has now been another incident. 29 were injured in the downtown Manhattan explosion and six injured at the Minnesota stabbing attack.
Sunday night around 9:30pm EST two men near an Elizabeth, NJ train station discovered a package of bombs after seeing wires and a pipe coming out of a package. The package had three pipe bombs and two smaller devices said Christian Bollwage, Mayor of Elizabeth, NJ. The FBI was working to disarm the bomb with a robot when it exploded.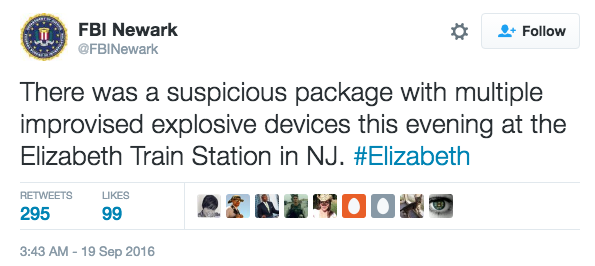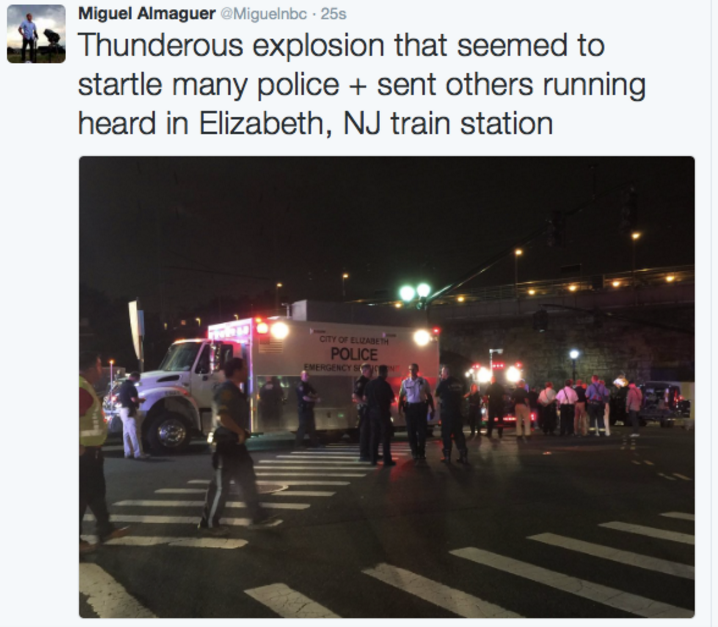 Also Sunday night federal officials stopped a "vehicle of interest" in the Chelsea, NYC bombings in Brooklyn. Officials told Fox News that a "number of individuals" who could be connected to the bombs were taken into custody. At least five men are being questioned.
Federal authorities conducted a traffic stop of a "vehicle of interest" in the Chelsea bombing Sunday night. A law enforcement source told Fox News that a "number of individuals" who are possibly connected to the explosion were taken into custody but no one has been charged.
The five people had just went over the Verrazano Bridge from Staten Island and officials were trying to determine if they were trying to flee town. Police also identified a person of interest in the NYC bombing via camera footage in the area but they did not say if that person was part of the five people being questioned.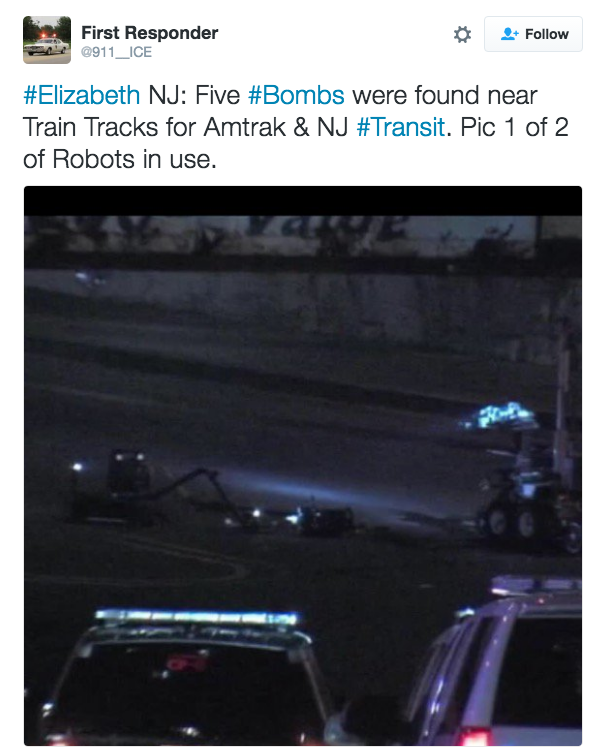 Bollwage said, "They noticed a package in a wastebasket. They took the package out of the wastebasket because they thought it was of some value to them. "
After seeing that the package had a pipe and wires, they dropped the bag and the explosives fell onto the ground. They then reported the package to police said Bollwage.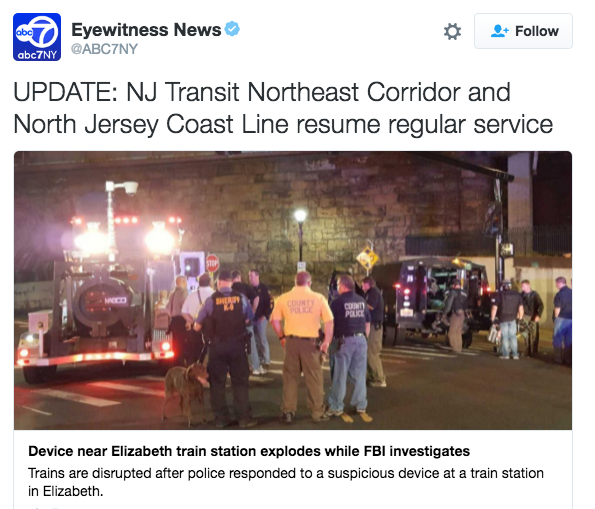 NJ Transit one of the most heavily trafficked public transportation system in the country, was suspended between Newark Liberty Airport and Elizabeth, NJ. Amtrak trains traveling from New York City's Penn Station to New Jersey were being held and trains traveling from New Jersey to New York City were being held at Trenton, NJ. Service resumed around 5:30am Monday.
Officials did not comment on whether they thought the Elizabeth NJ bomb was connected to the other bombs but at this point it would appear likely.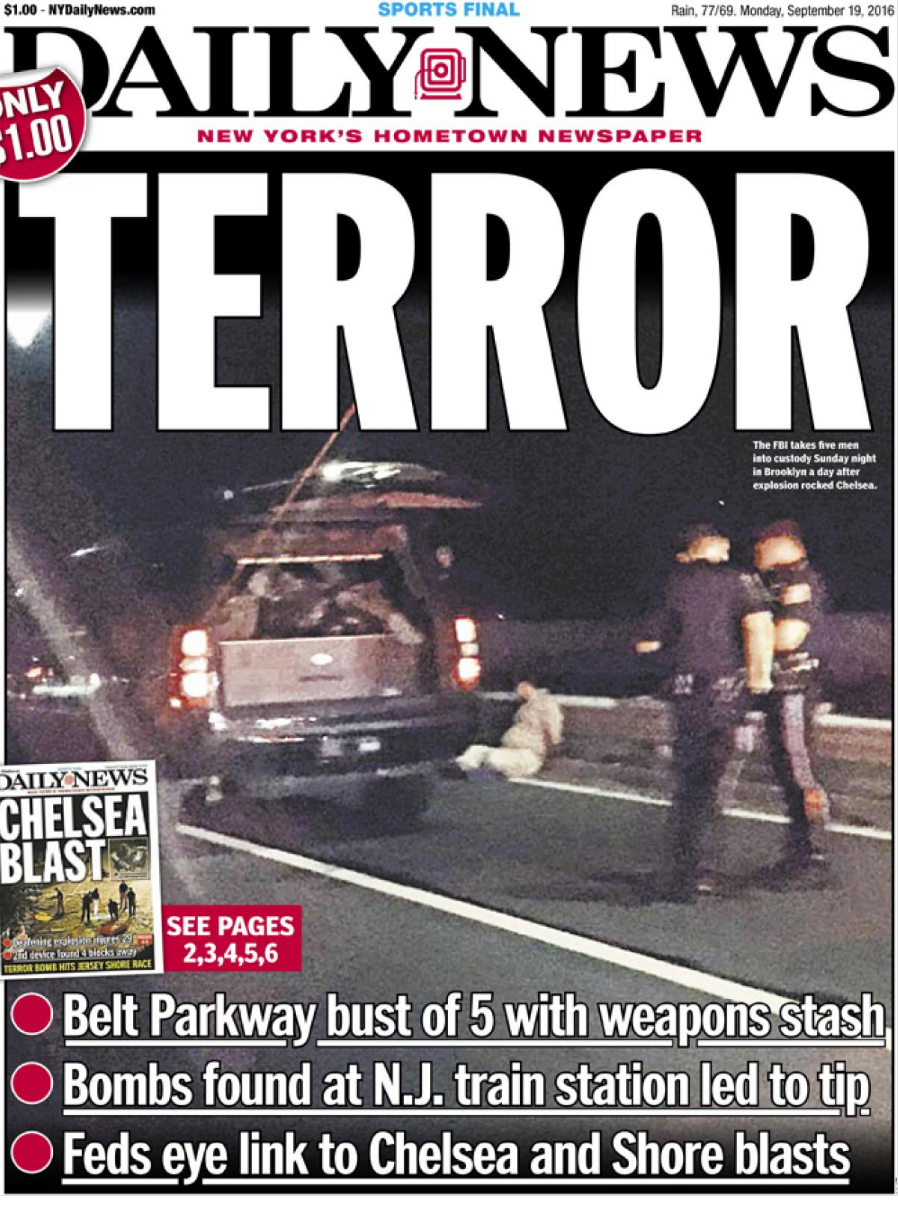 The Instagram post of New York State Senator Marty Golden reporting the individuals who were taken into custody.