On Friday, the United States Air Force Thunderbirds flew over several sections of the NYC area, including the Statue of Liberty, One World Trade Center and the Hudson River.
At around 9:30 am, the six F-16 fighter jets flew over the Hudson River and then flew over the Statue of Liberty as well as One World Trade Center close to 9:45 am.
According to police, the fighter jets made passes in both directions along the Hudson River.
This flyover is practice for the New York Air Show at Stewart International Airport over the weekend.
The Thunderbirds are the air demonstration group for the United States Air Force and perform shows all over the United States as well as the world.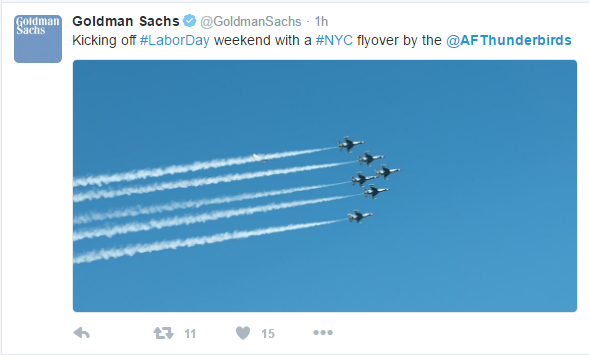 Thanks to the @AFThunderbirds for the great flyover! pic.twitter.com/aIo1As6QXZ

— US Military Academy (@WestPoint_USMA) September 2, 2016
@AFThunderbirds northbound after flying over World Trade Center. Thanks for the salute! pic.twitter.com/8xZPfHVHtJ

— FBI New York (@NewYorkFBI) September 2, 2016
Moments ago: @AFThunderbirds flying over our the https://t.co/o6IinmgxZm's home in lower Manhattan pic.twitter.com/11c0DQBJbW

— TheStreet (@TheStreet) September 2, 2016
[revad2]