A 16-year-old Yazidi girl that was repeatedly raped by ISIS soldiers doused herself in gasoline and set herself ablaze in the hopes that it would either kill her or make it so the terrorist "no longer find her desirable." The girl, that asked to only be identified as Yasmin, is one of thousands of Yazidi women that have been forced into sex slavery by the terrorist organization. Yasmin hails from the Sinjar region, an area that has become a hotbed of ISIS activity in recent years. ISIS soldiers began enslaving the local women or selling them into sex slavery. Yasmin was able to escape after her tragic act of defiance but it is believed that up to 3,000 women are still being victimized by ISIS.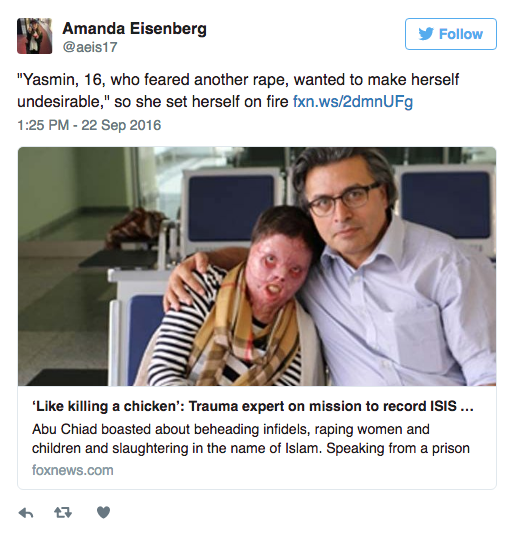 Yasmin was rescued from the area shortly after setting herself on fire by Dr. Jan Kizilhan, a psychology professor and trauma expert who has been working to bring women and children traumatized by ISIS to Germany. He plans to treat the women and children that he brings to Germany for various mental illnesses that living under ISIS rule can cause. Yasmin is one of hundreds of children that have been abused by ISIS. Children as young as six have become sexual objects that deranged terrorists use for their own pleasure. Some of the children are so mentally traumatized by their experiences that they repress the incidents. One example is of a pregnant 12 year old that, despite being visibly pregnant, claims to have never been touched.
Women living in the highly oppressive Sinjar region do not have access to mental services or rehabilitation. Dr. Kizilhan understands he can't put an end to the horrific practice being carried out in the Middle East and instead hopes to treat as many as women as he can. He has reportedly taken in and treated over 1,000 women from the ages of 4 to 56.
[revad2]