The world's largest aircraft, the Airlander 10, was damaged after making a crash landing on only its second test flight. The massive blimp-like aircraft was originally developed for the U.S. military to use for surveillance in Afghanistan as part of the Long Endurance Multi-intelligence Vehicle (LEMV) program. Unfortunately, the program was cancelled in February 2013.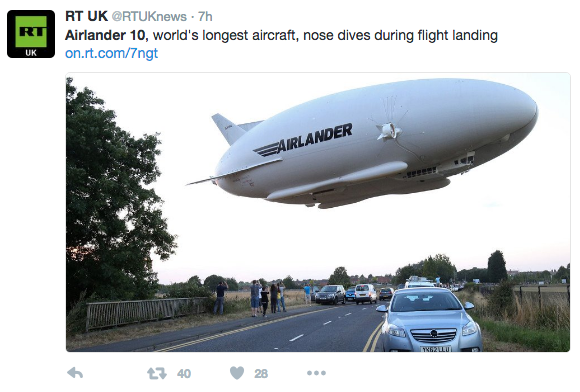 The Airlander 10 is a unique hybrid blimp, helicopter and airplane that can stay in the sky without the need to refuel for days on end. The massive 301ft long, 143ft wide, and 85ft tall aircraft can carry a heavier load that traditional aircraft while using far less fuel.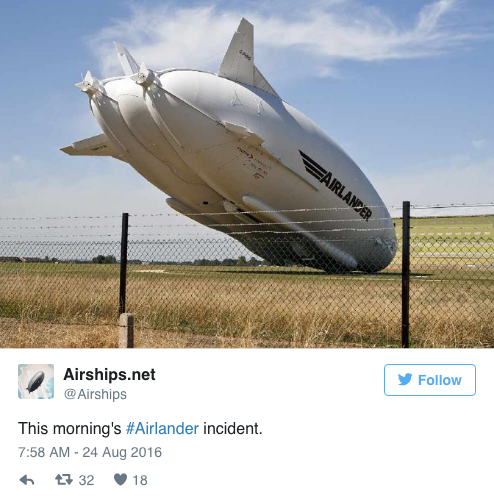 After the 100-minute flight the Airlander 10 experienced a "heavy landing" in which the cockpit was crushed under the weight of rest of the ship. The cockpit was extensively damaged. The crew escaped the "hard landing" without any serious injuries and are reportedly "safe and well" according to Hybrid Air Vehicles, the company that is developing the aircraft.
Watch real footage of the crash landing below:
The Airlander 10 has been dubbed "The flying bum" for the uncanny resemblance the aircraft's rear end to a human's rear end. The company hopes to sell the aircraft for upwards of $37 million. While the ship is no longer being considered by the U.S. military Hybrid Air Vehicles hopes to sell the Airlander 10 to a private company for surveillance, communication, and delivery purposes. The aircraft has a cruising speed of only 92 mph but the company believes its fuel efficiency could make it an invaluable resource for any company hoping to "revolutionize" the cargo industry.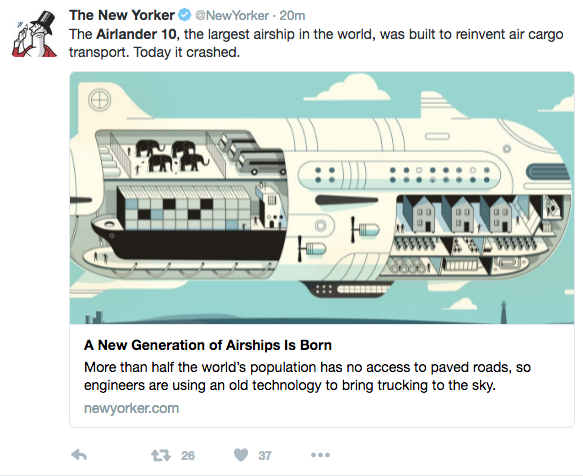 [revad2]