WWII Veteran Ernest Thompson has visited the USS Iowa regularly until he became unable to do so because of health problems.
When the word got out that he couldn't visit the ship anymore, they came to him and gave him a special surprise right at his doorstep.
The Navy Chief Selects from the Fleet Anti-Submarine Training Center visited  fellow IOWA museum crew member and WWII veteran Ernie Thompson at his home.
During World War II, Thompson served on the USS Missouri during World War II and before that he served on the USS Tennessee.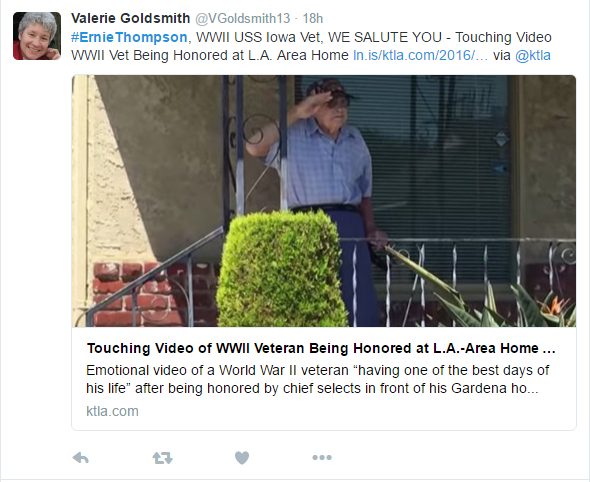 Here is the backstory told by his grandson, Jonathan Williams, who also happens to be Battleship IOWA Museum CEO:
"My grandfather served on the USS Tennessee prior to WWII and the USS Missouri during WWII, ultimately witnessing the end of WWII. He has become one of my best friends and is the reason that I became involved in saving the USS Iowa from scrap. When he lost my grandmother, the one thing he wanted to do was visit his ship (USS Missouri) again. We visited his ship together in 2000 and I was able to experience what these museum ships meant to veterans. I witnessed an 82 year old man become 18 again and a flood of emotions that affected all that were present tremendously. When I returned home, I was so incredibly impacted by this experience that I felt other veterans should be able to experience this. I was blessed to find out that the USS Iowa (sister to the MISSOURI) needed to be saved and I decided to partner with amazing people and make it my life's work to preserve IOWA for other veterans. We accomplished this and today I am blessed to serve as the CEO of the Battleship IOWA Museum in Los Angeles – 15 minutes from my grandfather's home. We honor all veterans daily by announcing them on board when they visit with their families (just heard one as I write this). The emotional experience this provides them is the same one I felt 16 years ago. My grandfather joined the IOWA Museum Crew with other WWII veterans (such as Bob Despain from the USS Hoel) to come to the ship on Sundays and meet the public and tell their story. These public interactions have greatly influenced future generations, the public, and current Navy personnel on the importance of history, patriotism, and military/veteran appreciation. The Fleet Anti-Submarine Warfare Training Center has made it part of Chief Select for 2 years to meet these WWII veterans. When they found out that my grandfather was unable to visit the ship lately due to health reasons, they decided to take it to him. They worked with the IOWA Volunteer Coordinator to arrange the surprise visit and when the day arrived he was surprised! The video shows the culmination of the planning and the amazing efforts of all involved. Neighbors came out of their houses to witness a once in a lifetime experience. My grandfather told me that it was one of the best days of his life! I am humbled by the efforts these young men and women to do this for my grandfather. Our IOWA crew tries to do this daily for all veterans and their families, it is our small gesture to let them know that we appreciate them."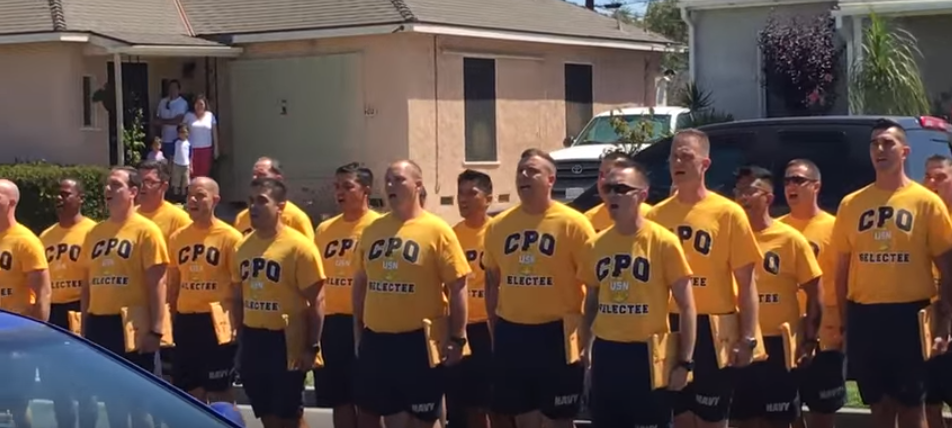 [revad2]