This week, VA Secretary Bob McDonald traveled to Omaha, Nebraska to give a speech about plans to build a new $136 million dollar VA hospital and also to help dedicate a Vet cemetery in the area.  However, while he has spoken out about these other VA matters, McDonald has remained silent on giving any sort of response to Florida Rep. Jeff Miller who threatened to subpoena the VA if it fails to answer questions about the latest controversy that surrounds the department: overspending on art purchases.
In analyzing the records, over 30% of the alleged $20 million spent went towards one facility alone in Palo Alto. That just doesn't add up. Either they were misusing the money at one location or the VA isn't being honest about the total money spend on "art" across the country.
The subpoena threat came after McDonald failed to address the questions when Rep Miller originally asked them back in October.  Cox Media and watchdog group Open The Books teamed up for an investigation which revealed that while the VA was under scrutiny for failing to care for Vets who were forced into obscenely long wait times, they had spent at least $20 million dollars on art installations for its facilities.
Government officials like Rep. Miller and Senator Mark Kirk from Illinois are requesting full documentation of the amount of money that went to purchasing art because the spending appears to be astronomically high and they're not sure if there's not more  that has yet to be uncovered.
When the information was first released in October 2015, Rep. Miller stood on the House floor and displayed pictures of some of the most extravagant sculptures that were installed.
Among the highest priced installations under scrutiny is a large rock sculpture placed in the courtyard at the Mental Health Center in Palo Alto called "Aggregate" by California based artist Phillip K. Smith.  The boulder has a ridged texture and has been laser cut into blocked sections that have been pieced back together.  While the designers think the giant rock somehow evokes "a sense of transformation, rebuilding, and self-investigation," lawmakers and critics of the VA's management argue it is nothing more than a giant waste of money.  Though the sculpture alone cost taxpayers $482,960 just to purchase from the artist, the overall cost for site preparation and installation was over $800,000, making the entire project cost about $1.3 million.
Another controversial installation to come out of Palo Alto is called "Horizon" by artist Ray King which displays "laminated holographic glass elements" to create a large series of dots and dashes which write out quotes by Abraham Lincoln and Eleanor Roosevelt in Morse code.  The pieces, which are displayed across a parking lot façade, cost tax payers a total of $285,000.  Though it may seem like a nice sentiment, fury ensues when the money that could have gone to hiring more doctors or purchasing supplies for the hospital was instead spent on this piece which is ironically displayed at a VA location that focuses on helping blind Veterans.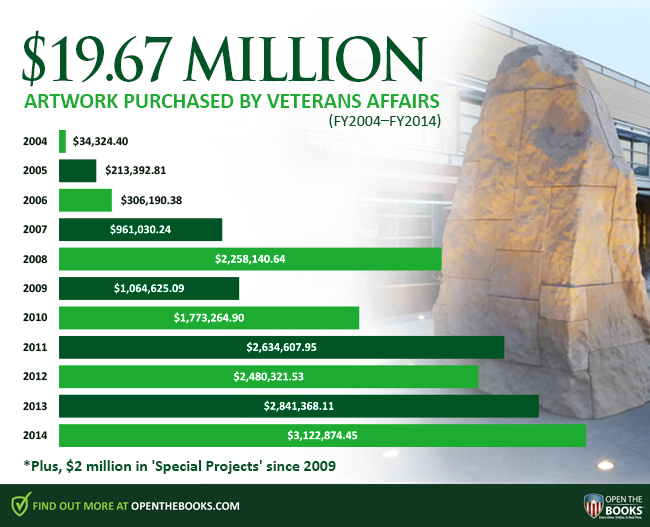 According to the released information, the Palo Alto location is responsible for spending $6.3 million dollars on art purchases and consulting services.  Outrage and questions arise with the realization that the VA spent over 30% of the alleged $20 million spent went towards one facility alone.
Senator Kirk, who is the head of the committee that writes the VA spending bill each year, has demanded a moratorium on art purchasing until they can come up with a more common sense art budgeting plan.
Though there has been a long history of Government spending abuse on commissioning artwork, the overspending at the VA is troubling due to its inefficiency to function and properly care for Vets which was exposed in 2014.  The controversy referred to as the "wait time scandal" involved wait times for Veterans that were so long, many Vets died before receiving the care that they needed.  The controversy led to ousting of then VA Secretary Eric Shinseki.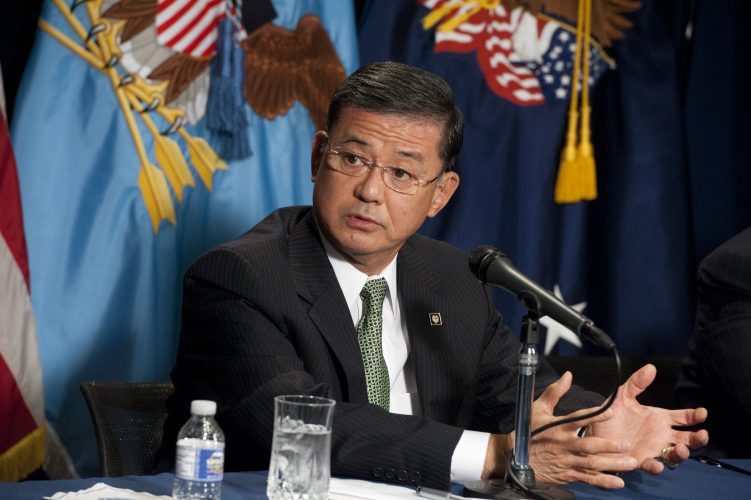 While the majority of these purchases were made during former Secretary Shinsekis time in office, the silence from the current VA secretary speaks volumes.  The silence begs the question how much more has gone to spending in the past year, or in what other ways money was mishandled.
Secretary McDonald has not had a clean track record for honesty since taking the position in 2014.  In February2015, McDonald claimed to have fired 60 VA employees over the wait time scandal.  Upon further investigation, it was revealed that only 8 had been terminated in connection with the controversy.  Many employees that were under fire for their actions during that time were not held accountable.
Furthermore, statements made by McDonald in May of this year regarding the wait times were highly criticized after he compared the VA wait times to lines at Disney World.  McDonald said, "When you go to Disney, do they measure the number of hours you wait in line? Or what's important?" trying to downplay the fact that thousands have died while waiting for appointments at the VA.
With $20 million mishandled at the VA and no answers from its Secretary, there are many questions left to be asked. With McDonald's history of smudging the numbers, it would come as no surprise that he could be guilty of a pseudo cover-up to save his reputation and remain in power.  Why is he silent? Will Congress have to subpoena the VA for more answers? Who benefitted from the taxpayer money that was given to these artists and installers?  Was there something more nefarious going on underneath it all?  And ultimately, who will be held accountable for this disheartening waste of money meant to help our nations Veterans?