Filed Monday in the U.S. District Court for the District of Columbia, Patricia Smith and Charles Woods are suing Hillary Clinton for the wrongful death of each of their sons in the Battle of Benghazi, Libya and for defamation and "intentional and negligent infliction of emotional distress" after what many claim was Clinton continually, lying about, mocking and ridiculing the circumstances.
They also claim that Clinton was "extremely careless" in handling classified information which contributed to their sons' deaths. This is the years long culmination of the Benghazi controversy that has been seen as an issue that has refused to go away due to Hillary Clinton, President Obama and Susan Rice seemingly, as many think, being caught lying to the public about the circumstances leading up to the deaths of U.S. Ambassador Chris Stevens, Sean Smith, Tyrone Woods and Glen Doherty when terrorists overrun the Libyan diplomatic compound.
Ambassador Stevens was the first U.S. Ambassador killed in the line of duty since 1979.
Smith and Woods' attorney, Larry Klayman of Freedom Watch USA said in a statement while announcing the lawsuit,
"Having used a secret private email server that we now know was used to communicate with Ambassador Christopher Stevens with confidential and classified government information, and which we also now know was likely hacked by hostile adversaries such as Iran, Russia, China and North Korea aligning with terrorist groups, it is clear that Hillary Clinton allegedly negligently and recklessly gave up the classified location of the plaintiffs' sons, resulting in a deadly terrorist attack that took their lives."
Klayman added to the statement:
"During her campaign for President, Defendant Clinton has negligently, recklessly, and/or maliciously defamed Plaintiffs by either directly calling them liars, or by strongly implying that they are liars, in order to protect and enhance her public image and intimidate and emotionally harm and silence them to not speak up about the Benghazi attack on at least four separate occasions."
Twitter's reaction, as always, was swift: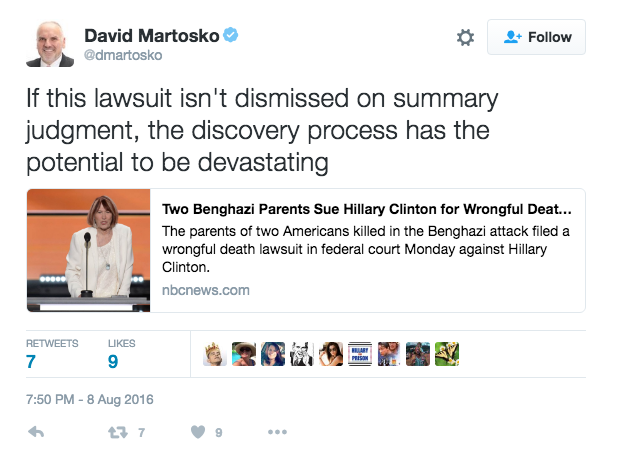 More from the statement:
"It is highly probable, given Defendant Clinton's history of reckless handling of classified information, that Defendant Clinton, as Secretary of State, sent and received information about Ambassador Christopher Stevens and thus the U.S. Department of State activities and covert operations that the deceased were a part of in Benghazi, Libya. This information was compromised from the second that it left Defendant Clinton's private e mail server and easily found its way to foreign powers including, but not limited to Russia, Iran, China, and North Korea."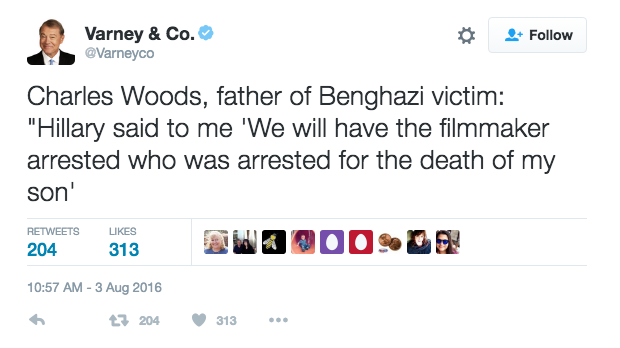 [revad2]