State Department spokesman Jack Kirby was asked at a Thursday press briefing by a reporter, "In basic English, you're saying you wouldn't give them $400 million in cash until the prisoners were released, correct?"
"That is correct," Kirby responded.
These comments, along with others, make it nearly impossible to deny that the two events were tied together and it was a most likely ransom.
He later maintained that, "the two negotiations were separate." But if that were true then the two actions would not have been tied to each other like he admitted.
Kirby then complained to the press about even bringing the issue up:
"It's been interesting to watch this story surface. Some of you may recall, we announced these payments in January. Many months ago. There wasn't a secret. We announced them to all of you. [Press secretary Josh Earnest] did a briefing on them. This wasn't some nefarious deal," the president said. "It wasn't a secret. We were completely open with everybody about it and it is interesting to me how suddenly this became a story again."
The highly controversial $400 million dollars cash that was airlifted to Iran on the same day that the Iranians released U.S. Navy Sailors was indeed held from Iranian officials until they released the hostages, the Wall Street Journal revealed.
The WSJ reported, "U.S. officials wouldn't let Iranians take control of the money until a Swiss Air Force plane carrying three freed Americans departed from Tehran on Jan. 17. Once that happened, an Iranian cargo plane was allowed to bring the cash home from a Geneva airport that day."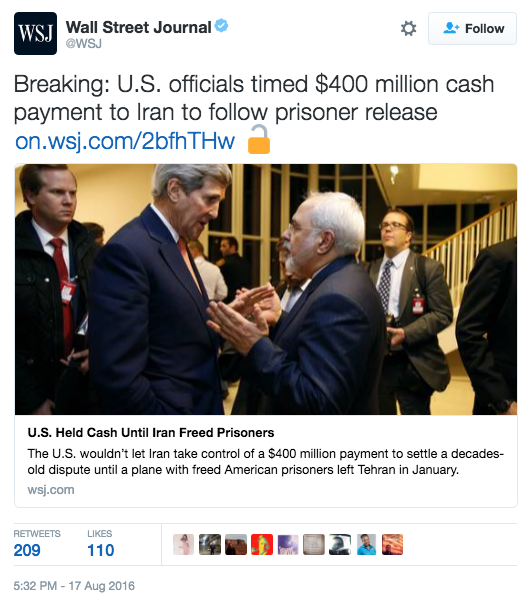 Officials who spoke to the Journal stated that only once the detainees were "wheels up" were the Iranian officials in Geneva permitted to take the cash.  The Obama administration said that the money had to be sent in cash because of laws that forbid any form of electronic banking or wiring to be done with the terrorist regime.  Because there are also laws in place that forbid our government from exchanging USD with Iran, the administration was required to give the $400 million worth of U.S. dollars in the form of francs, euros, and other various forms of currency.
The exchange, which the WSJ calls "tightly scripted", defies the Obama Administrations narrative that the pallets of cash dropped was nothing more than a partial payment of a longstanding investment dispute we've had with Iran since the 70's.
Back when the news broke back in early August that the cash exchange happened on the same day on the detainees were released, President Obama declared "we do not pay money for hostages" and that the theory that the payment to Iran in January could be ransom "defies logic".
The Obama Administrations narrative that the exchange was in no way, shape, or form "ransom" is what is beginning to "defy logic" as more details emerge.
Last week, State Department Spokeswoman Elizabeth Trudeau refused to answer AP reporter Matt Lee while he persistently asked which came first: the money or the hostages?  Trudeau continuously said she couldn't give a "tick-tock" on the order of the actions, which ignited suspicions that the money was exchanged as ransom.
Republican National Committee Chairman Reince Priebus released a statement Wednesday night following the latest developments.
"It's time for the Obama White House to drop the charade and admit it paid a $400 million ransom to the world's leading state sponsor of terrorism,"he said. "President Obama has foolishly put a price on the head of every American abroad and it should be no surprise that Iran has since detained more U.S. citizens. Hillary Clinton's support for this dangerous blunder shows once again she does not have the judgement to be president."
Former Presidential candidate Jeb Bush took to Twitter to share his thoughts, calling these new details a "terrible precedent".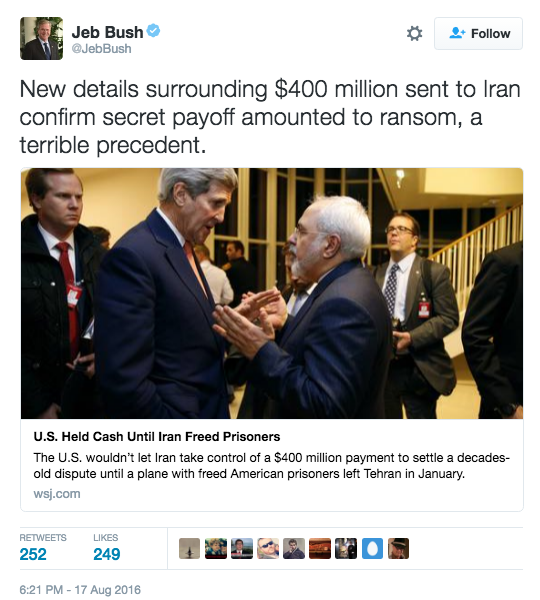 Congressman Tom Marino, Republican from Pennsylvania, and Congressman Sean Duffy, Republican from Wisconsin, also took to Twitter to voice their opinions.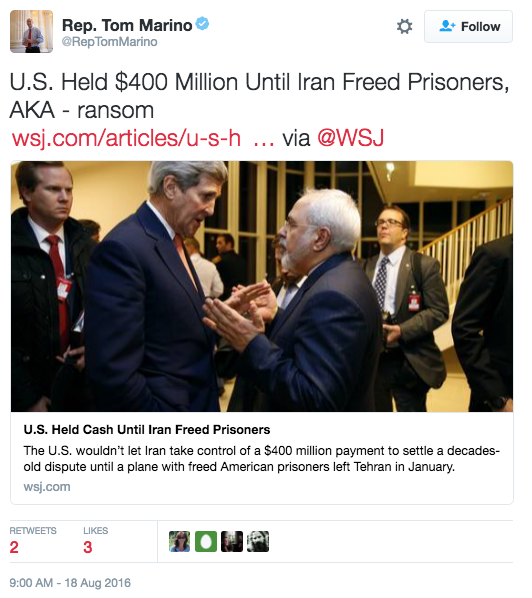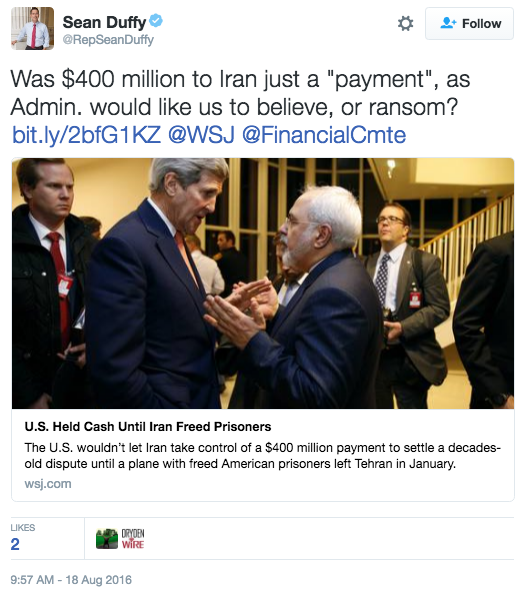 [revad2]