In the FBI interview notes recently turned over to Congress, it was revealed that Hillary Clinton told investigators that her decision to create a private email server during her time as Secretary of State came after receiving advice from one of her predecessors.
Clinton, who has been under fire for using a private email server to conduct Government work during her time at the State Department, claimed that Former Secretary of State Colin Powell recommended she use a personal email address while she served as Secretary.  Clinton claimed that the advice came during a conversation at a dinner party hosted by another former Secretary of State, Madeline Albright, in early 2009 at her home in Washington.
Her claims during the FBI interview mimic those of an excerpt from a soon-to-be released book on Bill Clinton that the New York Times was able to receive an advance copy of by journalist Joe Conason titled "Man of the World: The Further Endeavors of Bill Clinton".
"Toward the end of the evening, over dessert, Albright asked all of the former secretaries to offer one salient bit of counsel to the nation's next top diplomat," Conason writes. "Powell told her to use her own email, as he had done, except for classified communications, which he had sent and received via a State Department computer."
Conason continued, "Saying that his use of personal email had been transformative for the department," Mr. Powell "thus confirmed a decision she had made months earlier — to keep her personal account and use it for most messages."
However, Powell released a statement negating the claim, saying that he had no recollection of that conversation ever taking place.  Powell, who served as Secretary under President George W. Bush, said that though he could not recall directly advising her on the topic, he does remember telling her about the email systems he used while serving.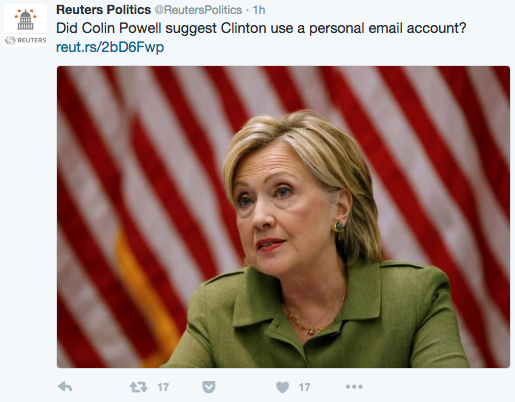 Powell, who was in office from 2001 to 2005, said that he recalls telling her about his own email practices and sharing with her that he used a personal email from AOL for personal matters and used his .gov email to conduct government business and share classified information.  Powell's office specified that in a statement to Reuters Friday morning after these latest allegations arose.
"He did write former Secretary Clinton an email memo describing his use of his personal AOL email account for unclassified messages and how it vastly improved communications within the State Department," the statement said. "At the time there was no equivalent system within the department."
Though he did also use a personal email account during his time at the State Department, Powell specified that he had no choice because there was no State run email system when he was confirmed into office like there is today.  The statement also read that he would use a secure department computer when handling classified information.
Though Hillary Clinton has defended the use of her email server by referencing other Powells use of a private email account, this is the first time any statements that she claimed Powell advised her directly to do the same have been made public.  While Powell used a private email during his time as Secretary, a State Department Inspector General report made it very clear that by the time Clinton assumed the position in 2009, rules about using private email to conduct official business were very straight forward.  The IG specified that using a private server was neither allowed or encouraged at that time because of "significant security risks".
It is unclear at this point is whether or not the dinner party took place before or after Clinton and her team registered the "clintonemail.com" domain on Jan. 13, 2009.
[revad2]