A war memorial built in London to commemorate the one million Canadians who fought alongside British forces during both World Wars is being desecrated by visitors as it is being used as a water slide and paddle pool.
The monument was erected by Queen Elizabeth in 1994 and is made out of bronze and granite angled slabs that have water trickling down it. The two slabs represent both Britain and Canada and there are maple leaves inserted into the two slabs as well as the country's coat of arms.
An inscription at the memorial reads, "In two World Wars one million Canadians came to Britain and joined the fight for freedom. From danger shared, our friendship prospers."
The sign at the memorial reads, "As a mark of respect, please refrain from climbing this memorial." Despite this, pictures on social media show people climbing on top of the memorial, cooling their feet off in it and playing games on it such as using it as a water slide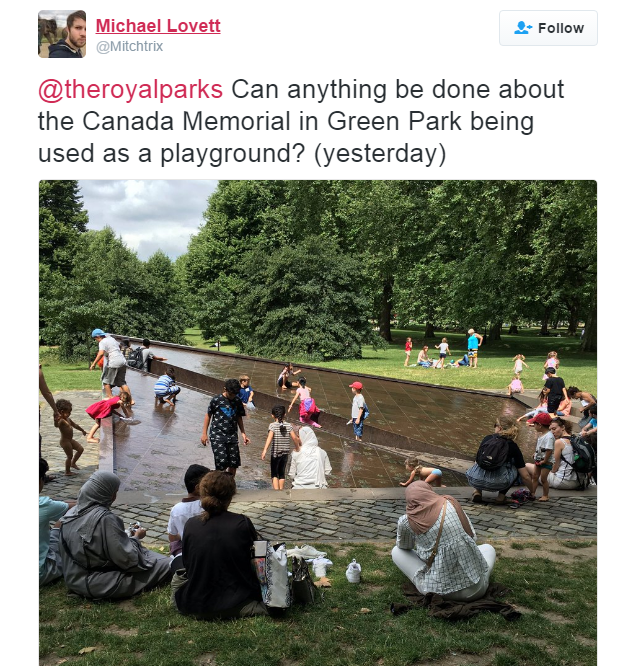 .
British Army veteran Richard Allen told the Daily Mail that what he saw was "an outrageous sight."
"The Canadians made a huge contribution to victory during the World Wars," Allen added. "Their soldiers were outstandingly brave, and thousands were killed or wounded. This very moving monument is designed to commemorate all of them, and it is very sad indeed to see it being desecrated like this."
Allen also said that the police should be handling this but because they have yet to receive a complaint, the London Metropolitan Police have not acted on it.
The monument is property of the Canadian government but is managed by Veterans Affairs.
[revad2]