San Francisco 49ers quarterback Colin Kaepernick is making headlines and dividing his team's fan base after refusing to stand for the American National Anthem during the pregame ceremony of a preseason game against the Green Bay Packers. The disrespectful 28-year-old from Milwaukee, WI hasn't stood to pay respect to the nation that makes his multi-million dollar NFL contracts possible for all three preseason games that he participated in so far this year. He states that his decision to remain seated during the anthem is due to his belief that the American flag represents "a country that oppresses black people and people of color."
Kaepernick has drawn intense scrutiny from the media, the NFL, and fans for his outrageous decision to disrespect the American flag in what is being called a "Black Lives Matter" style demonstration. Rather than apologizing for his actions Kaepernick has become more stubborn and arrogant in the face of media and fan backlash. He has stated that he not only doesn't regret not standing for the Star spangled banner, but will continue to do so until he feels that the American flag starts representing black people "the way it's supposed to." He has not defined exactly what he means by this cryptic statement.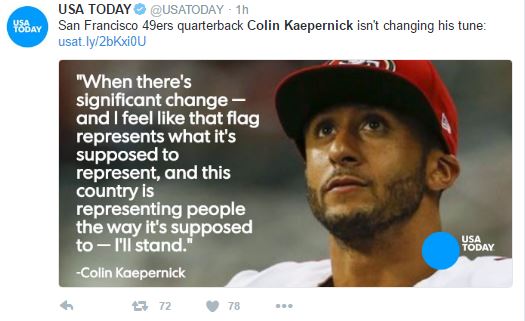 When questioned about the incident Kaepernick released the following statement to the media:
"I am not going to stand up to show pride in a flag for a country that oppresses black people and people of color. Until there's significant change, and I feel like that flag represents what it's supposed to represent and this country is representing people the way that it's supposed to, I'll stand."
While Kaepernick claims the issue is solely related to the representation of black people in the United States many sources are speculating that  Kaepernick is planning on converting to Islam and that this decision may have influenced his decision. Kaepernick's fiance, known as DJ Nessa, has reportedly talked Kaepernick into having a traditional Muslim wedding.
Other sources have speculated that the move is simply a cry for attention. The former starting quarterback recently lost the coveted starting position to Blaine Gabbert. The two are still duking in out in the preseason to determine who will be on the field for the first snap of the 2016 season. Many believe the decision to remain standing could be part of a culmination of frustration of losing the role to the white quarterback that has played less than 10 games for the franchise.
[revad2]