Marine Corps Forces Special Operations Command (MARSOC) will be receiving their own unique insignia to wear on their uniforms symbolizing their special skills and training. The insignia will be the first Marine Corps-only uniform alteration approved in the Corps history and will allow MARSOC Marines to distinguish themselves from others. The highly selective group was recently named the Raiders and will now be receiving a unique gold breast insignia to further solidify the group.
Marine Corps Raiders will receive a 2 by 2.5 inch  golden eagle carrying an upward-pointing stiletto dagger. The Southern Cross constellation that appears on other MARSOC and Raider insignia will be included. The image will be capped with the MARSOC motto: "Spiritus Invictus."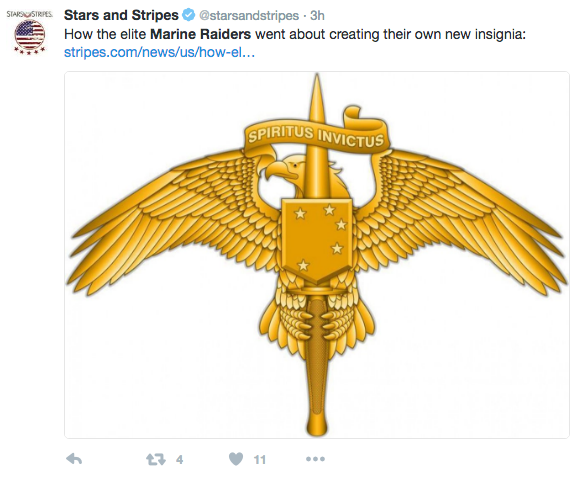 Marines need to complete a five-phase Individual Training Course (ITC)  to earn the right to bear the MARSOC special operator insignia. The first set of insignias will be issued to the next class to successfully pass the ITC. Current operators will receive their insignias shortly after.
MARSOC is a relatively new unit, being established in 2006. The group quickly earned the respect of other Special Forces operations. The program has spawned a variety of new specialized career paths for critical skills operators and special operations officers.
[revad2]