Jesse Morton, a 37 year-old man who was once a recruiter for al-Qaeda, has been hired by George Washington University's Center for Cyber and Homeland Security, CNN reported.
Morton used to be known as Younus Abdullah Muhammad when he worked as a recruiter for the terrorist organization, inspiring Americans to commit acts of violence.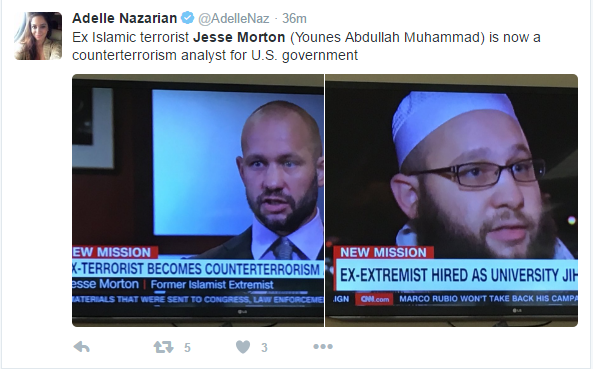 Reformed extremists have been known to work for other universities in other countries, but this appears to be a first for the United States.
While working with the terrorist group, Morton owned a website called "Revolution Muslim" that identified and recruited new members. He used the website to instruct individuals how to take part in acts of violence against the U.S. He ran it out of his apartment in Flatbush, Brooklyn.
Seamus Hughes, deputy director of the Program on Extremism at GWU said that they weren't able to reach people that were becoming radicalized, but Morton could be helpful in that aspect.
"We haven't figured out how to reach that individual who's going down the path of radicalization," Hughes told CNN. "Jesse has been in that world and got out of that world."
When Morton was 16 years old he ran away from home after suffering abuse from his mother. He sold drugs and later was arrested and taken to prison in Richmond, Virginia where he befriended a Moroccan Muslim and became a radicalized Muslim.
He graduated as valedictorian from Metropolitan College of New York in 2006 and then later got his masters degree in international studies at Columbia University.
In 2012, Morton was arrested and was sentenced to more than 11 years in prison after making threats against the South Park creators who depicted the Prophet Muhammad in a bear suit.
"I trust him," Hughes said. "We did our due diligence."
Nadia Oweidat, a fellow at the think tank New America told CNN that she believes that Morton wants to help the United States prevent future terrorist attacks and that he didn't do it so that he could get a lighter prison sentence.
"When an extremist defects, they risk being completely targeted by their community — it's like saying you're gay publicly," Oweidat said. "There are life-altering consequences and you don't approach it lightly."
While in prison, Morton spent a lot of time studying the works of Enlightenment philosophers such as John Locke and American thinkers such as Thomas Payne,
"In Locke, I found tolerance and secularism. In Rousseau's social contract, I saw the value of democracy," Morton told CNN.
While in prison, he met an FBI agent that treated him differently than other law enforcement officers and treated him with "respect," changing his views that the "U.S. government was evil."
He was released from prison in February, 2o15 and has worked with the FBI on "high profile cases," Hughes told CNN.
Morgan told the New York Times, "As many people as may have traveled, or may have committed criminal acts, because of my words, I hope that I can deter just as many. I may never be able to repair the damage that I have done, but I think I can at least try."
[revad2]