Outrage is the only way to explain how a Navy Sailor was forced to plead guilty in May for mishandling a few classified photos yet former Secretary Of State Hillary Clinton's private email scandal which saw thousands of classified sensitive emails, some top-secret and secret, exposed for years with multiple hackers claiming they stole information due to Clinton's carelessness, gets off completely free and clear of any charges.
The two cases are showing a double standard between how high ranking officials, such as Hillary Clinton, are getting special treatment compared low ranking government officials. In early July, FBI Director James Comey recommended no charges be brought up against Hillary Clinton despite being "extremely careless" with her private email server.
On Monday, the Federal Government dismissed a sailors defense that his case was similar to Hillary Clinton's private email server case, according to court filings.
Petty Officer First Class Kristian Saucier allegedly took photos of the classified engine room in the nuclear submarine in which he worked, the USS Alexandria. Saucier took several photos of the reactor compartment. He then, upon learning he was in trouble destroyed a laptop, a memory card and a camera to ensure no one saw the photos, after taking part in an interview with the FBI, according to an FBI complaint.
Saucier's lawyer, Derrick Hogan compared the photos that Saucier had in his possession to Hillary Clinton's possession of 110 classified emails in her private server.
"Mr. Saucier possessed six (6) photographs classified as 'confidential/restricted,' far less than Clinton's 110 emails," Hogan wrote in the court papers.
One witness claims that when Saucier found out he was being investigated by the FBI, a shipmate asked him if he had pictures of a reactor on his phone. "Yeah he did," Saucier told the witness, "and now I'm in trouble. It was for myself, it's not like I texted them to somebody." Saucier denied any intention to distribute the photos to anyone except to show his future family what he was doing in the Navy, according to the court filing.
The submarine was a Cold-War Era submarine and it is unclear how much valuable information the submarine would provide to foreign adversaries – despite no one seeing the photos except for Saucier and he saying it was for his own interest.
Saucier entered his guilty plea for one count of unauthorized possession and retention of national security information in U.S. District Court in Bridgeport, Conn. He also was indicted on one count of obstruction of justice. He admitted that he took pictures of the restricted areas of engine room inside the USS Alexandria while working as its machinist's mate at Naval Submarine Base New London in Groton.
Hogan, who is seeking probation, said Saucier should not go to prison "for a crime those more powerful than him will likely avoid."
The photos Saucier took were classified as "confidential," which is the lowest rank of protection for classified information and could cause some damage to national security, but not "serious" or "grave" damage.
On Monday in a court filing, the Federal government dismissed the comparison to Hillary Clinton's emails and asked the judge give him the maximum sentence. Saucier could face up to six and a half years in prison for his plea deal according to Federal guidelines.
"The defendant is grasping at highly imaginative and speculative straws in trying to further draw a comparison to the matter of Sec. Hilary (sic) Clinton based upon virtually no understanding and knowledge of the facts involved, the information at issue, not to mention any issues of intent and knowledge," the prosecutors said in court papers.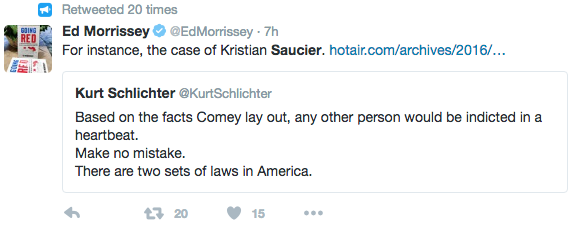 Saucier's lawyers agree that the two cases are not identical, but they are close. The difference is Clinton said that she did not knowingly send or receive classified emails, while Saucier did admit that he knew what he was doing was illegal.
This is contrary to FBI Director Comey's investigation findings when he said, "any reasonable person in Secretary Clinton's position … should have known that an unclassified system was no place for that conversation," and there were emails that were marked classified.
[revad2]