New information has revealed that while serving as Secretary of State, over half of the non-government officials that Presidential candidate Hillary Clinton met with had donated to her family's personal charity organization: The Clinton Foundation.  In a new report by the AP, 85 of the 154 non-government people Clinton had meetings with her on schedule had donated large amounts of money to the foundation.
The report revealed that of the 85 non-government officials Clinton met with, over 40 of them had donated over $100,000 to The Clinton Foundation.  Furthermore, over 20 of those individuals or groups she met with had donated over $1 million dollars to the foundation.  The total dollar amount of contributions from the 85 Clinton Foundation donors Clinton met with equaled about $156 million.
Among those donors Clinton met with included an internationally known economist who requested her help to stay employed at the nonprofit bank he ran while the Bangladesh government trying to push him out, an executive on Wall Street who needed Clinton to help with issues concerning her visa, and Estee Lauder execs who met with Clinton while her department worked with the Estee Lauders corporate charity that tried to fight gender-based violence in South Africa.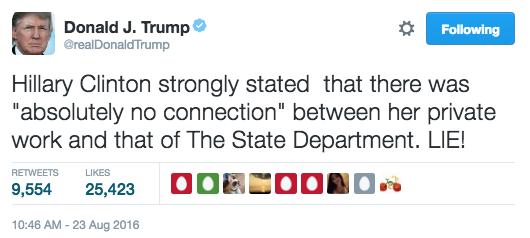 Clinton has been heavily scrutinized by critics questioning the ethics of accepting donations from foreign donors while serving in such a high ranking position in the United State Federal government.  Rival Presidential candidate Donald Trump has accused Clinton of using pay-to-play tactics allowing foreign leaders and businessmen to gain access to her at the State Department by donating to the foundation.  Though the evidence is damning, investigators say there is no direct evidence of pay-to-play actually happening during her time as Secretary.
Following Trumps attacks against Clinton based on the evidence in the AP report, Clinton fired back while on a phone interview with Anderson Cooper on CNN.  "What Trump has said is ridiculous," Clinton said. "My work as secretary of state was not influenced by any outside forces. I made policy decisions based on what I thought was right."
She continued by saying, "I know there's a lot of smoke, and there's no fire."
Former President Bill Clinton, husband of Hillary, came out to speak about their familys Foundation and defend his wifes past actions as secretary and future actions if she is elected President.
"We're trying to do good things," Bill Clinton said. "If there's something wrong with creating jobs and saving lives, I don't know what it is. The people who gave the money knew exactly what they were doing. I have nothing to say about it except that I'm really proud. I'm proud of what they've done."
He continued by explaining that if she is elected they would have to do more to alleviate her influence at the foundation to ensure no ethics codes are violated.  "We'll have to do more than when she was secretary of state, because if you make a mistake there's always appeal to the White House if you're secretary of state," Clinton said. "If you're president, you can't."
[revad2]